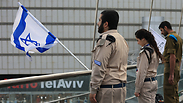 Siren sounded during memorial day in Tel Aviv
The Ministry of Defense has published the official data of the number of Israel's fallen soldiers and terror victims in advance of Memorial Day (Yom Hazikaron), which will begin on the evening of May 10.

According to the statistics, the number of fallen soldiers since 1860 to the present day (May 6) stands at 23,447. Since Memorial Day in 2015, 68 people have joined the list while an additional 59 wounded war veterans who succumbed to their wounds were counted and recognized during the year as fallen soldiers.

The most up-to-date number of bereaved families in 2016 stands at 16,307 which includes 9,442 bereaved parents, 4,917 widows and 1,948 orphans up to the age of 30.

The Defense Ministry's memorial department responsible for the ceremonies estimates that more than one-and-a-half million people will visit 52 military cemeteries across Israel.

Memorial Day for Israel's fallen will get underway following a one-minute siren, which will be sounded throughout the state on Tuesday, May 10 at 20:00, following which memorial rallies will begin. On Wednesday, May 11 at 11:00, a two-minute siren will be sounded after which official memorial ceremonies will be held throughout the state.

The memorial department's activities will span over 52 cemeteries, hundreds of military burial plots from Kiryat Shmona to Eilat, and thousands of graves in different communities.

Its work will also include renovation, maintenance, cleaning and gardening of the cemeteries as well as polishing and replacing damaged or old tombstones. Access to the cemetery and tombstones will also be widened for disable people and the elderly. Attention will also be paid to all members of the bereaved families.