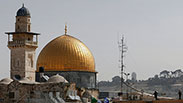 The United Nations Special Coordinator for the Middle East Peace Process turned down on Saturday Israeli Prime Minister Benjamin Netanyahu's idea to give a history lesson to United Nations personnel, after UNESCO called on Israel to respect the Muslim freedom of religion in a document that completely omitted any Jewish historical connection or religious significance to the site.

Last month, UNESCO "strongly condemn(ed) the Israeli aggressions and illegal measures against the freedom of worship and Muslims' access to their Holy Site Al-Aqsa Mosque/Al-Haram Al Sharif," the third holiest site in Islam.

For Jews, who refer to the area as the Temple Mount, it is the holiest site in the religion.

Netanyahu was furious that the Jewish term for the site was not mentioned and terming the resolution "absurd" and stating that it "ignores the unique historic connection of Judaism to the Temple Mount, where the two temples stood for a thousand years and to which every Jew in the world has prayed for thousands of years." On Friday, he proposed to "personally organize" what he termed "a seminar on Jewish history for all UN personnel in Israel" and for diplomats.

No thanks, responded the United Nations Special Coordinator for the Middle East Peace Process, Nickolay Mladenov, the next day.

"If somebody wants to send invitations, he can address them to Paris and to the member states' ambassadors to UNESCO there," he stated in a communiqué. "The UN personnel in Jerusalem knows very well the history of the region, of its people and of its religions."