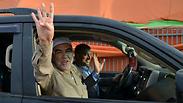 The leader of the northern branch of the Islamic Movement, Sheikh Raed Salah, began his 9-month prison term on Sunday morning in Ohalei Kedar Prison in the Negev for a speech he made in East Jerusalem in 2007 in which he incited violence and racism.

Hundreds of people showed up in Umm al Fahm to demonstrate their support for Salah and to bid their final farewells. Salah arrived in Be'er Sheva, together with dozens of activists, before he entered prison. "I enter (prison) relaxed. If the day comes in which we are to choose between prison and to give up on Jerusalem and the Al-Aqsa Wosque, we will welcome prison. We will sacrifice our lives for Al-Aqsa," Salah declared just prior to his incarceration.

Salah also said in the morning, "These are not moments of of parting ways, but moments of renewed beliefs and values of Islam and of Palestinians. Our greatest joy will come when, God willing, Al-Aqsa is liberated from the Israeli occupation. Netanyahu and his cohorts are constantly trying to incite against us. We must unite as one against the Israeli government and its racist policies. I will stay strong behind bars and will continue to struggle from inside jail. I will not give up on the path in which I believe."

Salah was originally sentenced to 11 months in prison. However, the decision to reduce his sentence by 2 months was taken in a majority opinion penned by Justices Elyakim Rubinstein and Anat Baron, against the opinion of Justice Salim Joubran. Joubran asserted the conviction of incitement to racism should be upheld, but Salah should be acquitted of incitement to violence.

Rubenstein wrote in his ruling, "The defendant is a well-known figure in the Arab world and in Israel; he is one of the religious leaders of Muslims in Israel...his speech was given to a large crowd, furious and agitated...it appears this sermon was organized and planned in a volatile public atmosphere in light of the claims Israel wanted to change the status quo in the Al-Aqsa mosque. There is no reason to split hairs to determine these things. The objective of this speech was to incite racism."

On the other hand, Joubran wrote in his opinion that "there is great importance to the diversity of the crowd and their ability to understand the meaning of (the sermon). I believe that the fact the defendant did not address a specific crowd, willing and politically motivated, but to a general crowd from all over the world, reduces the specificity of the call, and as a result reduces the possibility that this call could bring someone to carry out an act of violence."

"As a crude analogy," Joubran continued, "just as general calls for world peace do not necessarily bring about world peace, I believe that general calls for a 'global intifada' do not necessarily incite to violence."