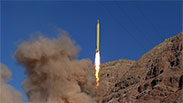 Iranian ballistic missile test
Iran reportedly successfully tested a medium-range ballistic missile two weeks ago that can reach as far as Israel, a senior military planning official was quoted as saying by Iranian new agency Tasnim on Monday.

"We tested a missile with a range of 2,000 kilometres (1,240 miles) and eight metres error margin two weeks ago. An eight-metre error margin means ...full accuracy," Tasnim quoted Brigadier General Ali Abdollahi as saying.

But Iran's Defense Minister Hossein Dehghan issued a vague denial on Monday. Speaking to the official IRNA news agency, Dehghan said the military has not conducted a missile test "with the range that was published in the media," without elaborating and without denying the existence of a military test two weeks ago.

In recent years, Iran has carried out several experiments with ballistic missiles, and from time to time it announces military developments designed to demonstrate its strength and deter its enemies - including Israel, the US and the Gulf countries.

Just two months ago, Iran conducted a ballistic missile test using missiles on which were written in Hebrew "Israel must be wiped out."

This experiment was carried out in contravention of the UN Security Council, and at a time in which Iran and world powers are working on the implementation of the nuclear agreement, which was supposed to relieve the tension with Tehran.

The Associated Press contributed to this report.