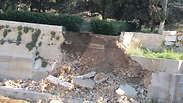 Solomon's Pools, a historic site built in the Gush Etzion region over 2,000 years ago during the time of the Second Temple, has been damaged, perhaps irreparably.

Visitors who documented the damage to the site, located in Area A, demanded that the Palestinian Authority work to fix it or otherwise allow Israel to restore it.

"This is the most impressive water area that was built in the common era," explained tour guide Benjamin Tropper.

It is still unclear whether the archaeological site was damaged as a result of harsh weather conditions or due to neglect.

"Solomon's Pools" was the appellation given to the water reservoir comprising three pools to facilitate the flow of water from the Gush Etzion region to Jerusalem using aqueducts.

Given that the site itself is situated in land controlled by the PA in the southern area of al-Khader village just south of Bethlehem, visits must be coordinated with the IDF.

"These pools are a major architectural wonder," said Tropper. "I noticed that a part of the wall had collapsed and we're worried that if the damage is not fixed, the main pool will collapse from the force of the water."

"The broken part of the wall is approximately 20 meters wide and there is a danger that an avalanche will destroy the site, which is a very important cultural and archaeological asset," he continued.

"This is the largest and most impressive water facility in the new era. It illustrates Herod's construction abilities at his best."

The length of the central pool stretches 170 meters and it is 16 meters deep. Up until 1971, residents of the area used the pool for agriculture and water irrigation. Moreover, before the Six Day War in 1967, the pools were a major source of water to the eastern half of Jerusalem.

The total quantity of water that can be stored in the three reservoirs is considered massive and contains, according to the evaluations, 288,000 cubic meters. In 1924 the British mandate undertook measures to renovate Solomon's Pools and its springs that feed them.