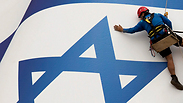 Preparations for Independence Day
Photo: EPA
On the eve of Israel's 68th Independence day, the number of its citizens stands at 8,522,000 people, the Central Bureau of Statistics (CBS) reported on Monday.

The new State of Israel only had 806,000 citizens when it was established in 1948, while the CBS estimates that there will be approximately 11.3 million Israelis by 2035.

There are 6,377,000 Jews living in Israel (consisting of 74.8 percent of the population), 1,771,000 Arabs (20.8 percent), and 374,000 who describe themselves as other (non-Arab Christians, members of other religions, etc, who make up 4.4 percent of the population).

Since Israel's 67th Independence Day, 195,000 people were born and 47,000 died, while 36,000 immigrated to Israel.

The CBS further reports that 75 percent of the Jews living in Israel were born in Israel, compared to only 35 percent when the state was established 68 years ago.

Back in 1948, only Tel Aviv-Jaffa had more than 100,000 residents. Today, there are 13 cities with more than 100,000 people, eight of them with over 200,000 residents: Jerusalem, Tel Aviv–Jaffa, Haifa, Rishon Lezion, Petah Tikva, Ashdod, Netanya, and Be'er Sheva.
Almost half of world's Jews live in Israel
According to CBS data, there were only 11.5 million Jews in the world in 1948, and only six percent of them lived in Israel. Three generations later, there are about 14.3 million Jews worldwide, of which 43 percent live in Israel – almost half of all Jews worldwide.

Israel's GDP has also grown drastically since its establishment – from NIS 25.1 billion in 1950 to NIS 1.108 trillion in 2015. GDP per capita went up from NIS 19,800 in 1950 to NIS 132,400 today. Also, the unemployment rate has sunk from 7.2 percent in 1955 to 5.3 percent in 2015.

In 1956, the average Israeli spent 42 percent of their monthly salary on food, whereas that number fell to 16.2 percent by 2014. Despite this, the average spending on transportation and media jumped from three percent in 1956 to 20 percent in 2014.

The CBS also compared home appliance ownership in Israel. In 1956, only 12 percent of Israelis had a washing machine, 37 percent had a refrigerator, and 10 percent had air conditioning. In 1963, only 13 percent of Israelis had home phones.

Today, the situation is much different: 96 percent of Israelis now have washing machines in their homes, 99.9 percent of Israelis have refrigerators, 87 percent have air conditioning, and while 73 percent of Israelis still have a landline, 96 percent of the population has at least one cellphone.

The CBS also reports a 87 percent increase in motor vehicle use in the country since its founding. In 1951, there were only 34,103 licensed vehicles on Israeli roads, which average out to approximately one vehicle per 25 people. Today, there are 2,965,727 registered cars on Israeli roads - approximately one vehicle per every three people.

The number of riders on Israeli railways has also gone up 31 percent since the founding of the state, from 1,557,000 rides in 1950 to 48,541,000 in 2014.

In addition, Israelis have become more educated. In 1950, there were only 1,300 people studying at universities around the country, and 200 graduates. By 2015, that number rose to 310,000 students studying at Israeli colleges and universities, and 72,500 people who completed degrees.