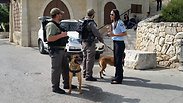 Two women in their 80's were stabbed Tuesday morning on the Golden Promenade in the Armon Hanatziv neighborhood in Jerusalem. A manhunt is currently underway.
They are were taken to Shaare Tsedek Medical Center in light to moderate condition. They claimed that their attackers were two masked Palestinians wearing jeans and black shirts.
The two women were walking with three other friends when they were attacked from behind.
The women reported that the attackers were Palestinians, and that following the attack they had fled to the Jabel Mukaber neighborhood in East Jerusalem.
Police have set up roadblocks and have arrested two suspects. The manhunt is still underway.
The head of Shaare Tsedek's trauma unit said that one of the victims was an 86 year old who was stabbed in the back, but there her life is not in danger. The other victim is 80 years old in moderate condition.
The motivation for the attack is suspected to be nationalistic.