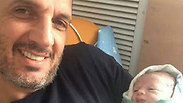 A daughter has been born Tuesday to the parents of a soldier who was killed in the armored personnel carrier (APC) tragedy in Shuja'iyye during Operation Protective Edge.

She was born to Sarit and Ilan Vanunu at Kaplan Medical Center in Holon. They are the parents of soldier Ben Vanunu.

Ilan said that "contractions began at 7:30am and we immediately went to the hospital. The birth was easy and Sarit feels well."

He continued, saying "I have no explanation as to how this happened on Memorial Day. God works in strange ways. We remember our son today as we do every day, and we really wish we could have told him that he has a new baby sister. Ben is with us and always will be."


They said that they will decide on a name for their daughter after consulting with a rabbi.

Sarit, the mother, added that "this is the most emotional day for us, our family, our friends, and those who support us. I want to thank the wonderful nursing staff at the maternity ward here from the bottom of my heart. I gave birth to my four children here, and now to my fifth, a daughter."

Ben Vanunu left behind two brothers and a sister.

Six other soldiers died along with Ben in the APC tradgedy, including Staff Sergeant Oren Simcha Noah, Staff Sergeant Daniel Pomerantz, Staff Sergeant Oren Shaul, Staff Sergeant Shachar Ta'ase, Sergeant Sean Mondshein, and Sergeant Max Steinberg.

Oren Shaul's body is being held by Hamas, which refuses to give it to Israel for proper burial.