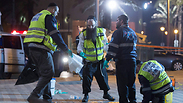 Scene of the Jaffa attack
Photo: EPA
Mohamed Awida, 30, who drove terrorist Bashar Masalha to Jaffa where the latter went on a stabbing spree that ended with the death of American Taylor Force, was charged on Tuesday with negligent homicide and with managing a network transporting illegal workers into Israel.

According to the indictment, the Palestinian resident of Jerusalem has been driving illegal workers into Israel once a week for close to a year. For each passenger, Awida received NIS 150-200. Masalha, a resident of Qalqilya, used to ride with Awida once a week.

On the day of the attack, Awida transported the terrorist and five other illegal workers into Israel. He dropped the others in the Triangle Area while Masalha was dropped off near the mosque in Jaffa, from where the terrorist began his stabbing spree, stabbing Force to death and wounding 11 others.

According to the indictment, Awida was negligent and caused death by "driving hundreds of illegal workers into crowded population centers inside the borders of the State of Israel without having checked or known what tools they were carrying," noting that "he should have expected that a terrorist could be among the hundreds of residents of the territories that he drove into Israel who will commit an attack and cause the death and injury of people."

Charging an illegal workers' drive for negligent homicide is unusual, but the State Attorney's Office sought to send a deterring message to drivers of illegal workers that they are responsible for the people they smuggle into Israel.

The driver who transported the three terrorists who committed an attack at the Nablus Gate in Jerusalem, killing Border Policewoman Hadar Cohen, was also charged with negligent homicide. The terrorists told the driver they were on their way to work even though they were not dressed accordingly, which should have made him suspicious.