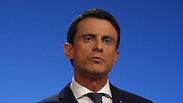 French Prime Minister Manuel Valls
French Prime Minister Manuel Valls on Wednesday described a UNESCO resolution on the flashpoint al-Aqsa mosque compound in Jerusalem as "clumsy" and "unfortunate" and said it should have been avoided.

The Paris-based UN cultural body adopted the resolution on "Occupied Palestine" presented by several Arab countries in mid-April.

The resolution referred several times to Israel as the "occupying power" and made no reference to the fact that the Jerusalem site, which is located at the southeastern corner of the Old City, is also revered by Jews as the Temple Mount and is the most sacred site in Judaism.

"This UNESCO resolution contains unfortunate, clumsy wording that offends and unquestionably should have been avoided, as should the vote," Valls told parliament.

Valls, who will visit Israel and the Palestinian territories later this month, said the UNESCO resolution "changed nothing" in France's approach towards the Israeli-Palestinian issue.

"I want to repeat once again and clearly, with conviction - France will never deny the Jewish presence and Jewish history in Jerusalem. It would make no sense, it is absurd to deny this history," Valls said.

The UNESCO resolution, which also accuses Israel of "planting fake Jewish graves in Muslim cemeteries", infuriated the Jewish state, with Prime Minister Benjamin Netanyahu describing it as "absurd".

The controversy comes as France is hoping to lead a revival of the moribund Israeli-Palestinian peace process following the worst flare-up of violence in and around the Gaza Strip for nearly two years.