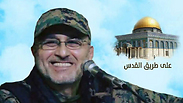 Mustafa Badreddine in a poster posted by Hezbollah
Top Hezbollah commander Mustafa Badreddine, Imad Mughniyeh's successor, has been killed in an attack in Syria, the Lebanese group said on Friday, the biggest blow to the Iranian-backed organization since its military chief was killed in 2008.

Badreddine, 55, was one of the highest ranking officials in the group, and assessed by the US government to be responsible for Hezbollah's military operations in Syria, where it is fighting alongside the Syrian President Bashar Assad.

After the death of predecessor and brother-in-law Imad Mughniyeh, Badreddine, known among the group's ranks as Zulfiqar, became Hezbollah's top military commander and adviser to the group's leader, Sayyed Hassan Nasrallah.

One of the group's most shadowy figures, Badreddine was known by several names, including Elias Saab and Sami Issa. He was only known to the public by a decades-old black-and-white photograph of a smiling young man wearing a suit until Hezbollah released a new image of him in military uniform.

Badreddine was also known for his expertise in explosives, apparently developing what would become his trademark explosive technique by adding gas to increase the power of sophisticated explosives.

Hezbollah said Badreddine had been killed in a big explosion targeting one of its bases near Damascus airport, and an investigation was underway into whether it was caused by an air strike, a missile attack, or artillery bombardment. Several other Hezbollah men have reportedly been wounded in the explosion. Hezbollah did not say when the explosion occurred.
Israeli involvement?
Initially, Lebanese TV station al-Mayadeen reported he had been killed in an Israeli attack, but a later Hezbollah statement of his death made no mention of Israel.

Meanwhile, a Hezbollah member of parliament said on Friday Israel was behind the killing, indicating that the Lebanese group would respond "at the appropriate time".

"This is an open war and we should not preempt the investigation but certainly Israel is behind this," Nawar al-Saheli told the Hezbollah-controlled al-Manar TV station.

There was no immediate response from Israel which has reportedly struck Hezbollah targets inside Syria several times during the country's five-year conflict. "We decline to comment," an Israeli military spokeswoman said.

Hezbollah, a political and military movement and Lebanon's most powerful group, has grown ever stronger since Israel left southern Lebanon in 2000, ending its 22-year occupation. The sides fought a 34-day war in 2006, their last major conflict.

When asked by an interviewer on Israel Radio about possible Israeli involvement, Immigration Absorption Minister Ze'ev Elkin, a close confidant of Prime Minister Benjamin Netanyahu, declined to comment.

Yaakov Amidror, a former national security adviser to Netanyahu, said Badreddine's killing was good news for Israel but stopped short of saying Israel was responsible.

"This is good for Israel. Israel isn't always responsible for this. We don't know if Israel is responsible for this," he told Army Radio."Remember that those operating in Syria today have a lot of haters without Israel."

"But from Israel's view, the more people with experience, like Badreddine, who disappear from the wanted list, the better," he added

Announcing his death, Hezbollah cited Badreddine saying he would return from Syria victorious or "a martyr". A photo released by the group showed him smiling and wearing a camouflage baseball cap.

"This martyrdom will be an incentive, same as of those of late commanders, for more jihad, sacrifices and continuity," Hezbollah Cabinet Minister Hussein Haj Hassan told the group's Al-Manar TV. "As he led the war against takfiris (Sunni extremists), the battles against takfiris will continue until victory is achieved."

Hezbollah's al-Manar TV said he would be buried at 5:30pm (2:30pm GMT) at a Shiite cemetery south of Beirut where Badreddine was to be laid to rest next to Mughniyeh.
Escaped a death sentence
A US Department of the Treasury statement detailing sanctions against Badreddine last year said he was assessed to be responsible for the group's military operations in Syria since 2011, and he had accompanied Hezbollah leader Sayyed Hassan Nasrallah during strategic coordination meetings with Assad in Damascus.


Badreddine was one of five Hezbollah members indicted by the UN-backed Special Tribunal for Lebanon in the killing of statesman Rafik al-Hariri.

The 2005 suicide bombing that killed Hariri and 22 others was one of the Middle East's most dramatic political assassinations. The trial is ongoing near The Hague, Netherlands. A billionaire businessman, Hariri was Lebanon's most prominent politician after the 15-year civil war ended in 1990.

Hezbollah denies involvement in Hariri's assassination and says the charges are politically motivated.

He was sentenced to death in Kuwait for his role in bomb attacks on the US and French embassies there in 1983, which killed five people. He escaped from prison in Kuwait after Iraq, under the leadership of Saddam Hussein, invaded the country in 1990.

His release from jail in Kuwait was one of the demands made by the hijackers of a TWA flight in 1985, and of the hijackers of a Kuwait Airways flight in 1988.

For years, Badreddine masterminded military operations against Israel from Lebanon and overseas and managed to escape capture by Arab and Western governments by operating clandestinely.

The US Treasury statement also said he had led Hezbollah ground offensives in the Syrian town of al-Qusayr in February 2013, a critical battle in the war when Hezbollah fighters defeated Syrian rebels in an area near the Syrian-Lebanese border.

Hezbollah has paid a very steep price for its public and bloody foray into Syria's civil war. Around 1,200 Hezbollah fighters are estimated to have been killed in the Syrian conflict.

In addition, the organization has lost at least four prominent figures since January 2015, and a number of high-ranking Iranian officers have also been killed either fighting Syrian insurgents or in alleged Israeli attacks. These include prominent fighters Samir Kuntar and Jihad Mughniyeh, the son of Imad Mughniyeh, who were killed in separate Israeli attacks last year.

Hezbollah responded in both cases, though the incidents were contained with the sides seeking to avoid any repeat of the 2006 Second Lebanon War, which exacted a heavy price in Israel and Lebanon.

Hezbollah also accuses Israel of carrying out the 2008 killing of Imad Mughniyeh, who was killed by a bomb in Damascus.

Once lauded in Lebanon and the Arab world as a heroic resistance movement that stood up to Israel, its staunch support for Assad has been criticized at home, even among his Lebanese support base.

The Arab League designated Hezbollah a terrorist organization in March. A month earlier, Saudi Arabia cut $4 billion in aid to Lebanese security forces after Lebanon's Foreign Minister Gibran Bassil declined to join Arab and Islamic league resolutions critical of Iran and Hezbollah.

The predominantly Sunni Gulf Arab states, led by the kingdom, have taken other punitive measures. They have warned their citizens against traveling to Lebanon as well as cut Lebanese satellite broadcasts, and closed a Saudi-backed broadcaster in Lebanon. The Gulf countries are also expelling Lebanese expatriates they say have ties to Hezbollah.

Hezbollah, which maintains a dominant militia force in Lebanon, has also aligned itself with the Saudi-opposed Shiite Houthi rebels in Yemen's civil war.