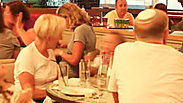 For those travelling who observe Kashrut (Jewish dietary laws), New York is the easiest place to visit, as the largest concentration outside of Israel of kosher restaurants and food establishments in the world is in the Big Apple, according to the app "Kosher Near Me," which centralizes information about kosher restaurants and products across the world.

According to Jonathon Myron, the founder of the free mobile app, the precise number of kosher restaurants in the world is constantly changing due to the rapid turnover of openings and closures. The most recent numbers, however, indicate that there are between 3,500-4,000 kosher restaurants in the world, at least 800 of which are located in New York alone.

Notwithstanding North America, France boasts the largest concentration of kosher restaurants as well as, incidentally, the largest Jewish population in Europe. France leads considerably against the other countries on the continent with 300 kosher restaurants alone compared to 700 throughout Europe.

"Despite the changes, the migration, and the existing problems for the Jewish community, there is still a massive number of restaurants and demand for kosher food, and the best option for those who keep Kashrut is in Paris and outside it," said Myron.

What is the most surprising place for kosher restaurants in the world?

"We were really surprised when restaurant were added to our list with names such as 'Kosher Pita Grill' which opened in Guayaquil in Ecuador. There is a small community there of around 1,000 Jews but they have been going through a kind of renaissance in recent years," Myron said. "They came together to open up the only kosher restaurant in the city. We think this is magnificent."
Jerusalem is easier
Other places where one may not expect to find kosher food (other than in Chabad houses) include: a falafel place in Tokyo, a brasserie in Luxembourg, Cafe Hillel in Caracas, Kosher Center in the city of San Jose in Costa Rica and Cafe Eden in Istanbul. Moreover, there are no less than six kosher restaurants in Chile.

The question of Kashrut remains an issue for Israelis who observe the dietary laws during their travels abroad. Indeed, Myron highlights the fact that levels of observance differ even between observant Jerusalem diners and those throughout the rest of the country.

While the capital is teeming with kosher restaurants - the number is other areas in Israel the is lower and sometimes significantly so.

Are we are living in an era in which the popularity of kosher establishments across the world is at its peak? It appears so. While many Jews observe varying levels of the rules of Kashrut, many people across the world choose to consume kosher products since the kosher stamp is believed to reflect superior standards of supervision and health-related monitoring.
Unprecedented boom
It is estimated that the kosher industry rakes in an annual profit of $13 billion, a figure that plays heavily in the considerations of food producers and food establishments.

According to Rachel Orian of the Kosher Delight Magazine, "more and more chefs in the world search for kosher additions to their selections because they realize that it is good for business. It brings in a quality customer base and opens up more options." She went on to say that "many companies apply for kosher certification for their products. There is no doubt that the kosher market is booming."

Myron agrees that kosher industry is undergoing an unprecedented growth. "A lot of options have opened up as a result of social networks that enable the quick transfer of information about kosher products and restaurants with a high degree of reliability for customers," he said.

"Also, food suppliers and those who oversee the production of food and supply the kosher certificate see to it that the information makes it to the local community and to tourists so that everyone can easily check which kosher products or restaurants are in their area," Myron added.

Are there countries in which kosher food has become more common and others where, with time, it has become more and more difficult to find kosher products?

According to Myron, "The Jewish people are in perpetual movement. In the US, for example, there is a number of restaurants that are closing down in cities in the Midwest because the population is moving away. By contrast, kosher businesses are flourishing on the west and east coasts, where the Jewish community has grown, in places such as Miami or Las Vegas. In those places, the kosher market is becoming significantly strong."
The next stage: Gourmet Kosher restaurants
Orian believes that a direct correlation exists between kosher businesses and anti-Semitism: "In countries where anti-Semitism in increasing, Jews are leaving and the kosher restaurants are closing."

She also points to relocation as an additional reason for the transformation of the kosher landscape: "In specific cities in the US, the older generation is passing away while the new generation is moving away, which is another reason why kosher businesses are decreasing. There are communities where there are practically no kosher restaurants in the city, but they still place importance on having a kosher kitchen in community buildings or synagogues, even in Conservative or Reform communities."

Myron's app, which was launched in 2011, has been downloaded by more than 100,000 users and allows them to find kosher products or restaurants in cities all over the world.

Is it easier today for tourists to observe Kashrut than it was a decade ago?

"There are, undoubtedly, more options available today than in the past. Even in the more remote areas where there isn't a particularly large Jewish community, it's normally possible to find kosher products in supermarkets or use the help of members of the Chabad movement or other organizations. Tourists are, more and more, able to purchase ready-made or packaged food that they can take away."

Orian further points out that there are also places where it's possible to order Shabbat meals in advance and receive it on Friday afternoon.

So what's next?

"We are seeing more and more places opening restaurants not only to supply basic kosher goods but also to take the project to the next step - kosher gourmet food. There are many restaurants that bring in renowned chefs and invest significant sums of money to offer diners a richer experience, while the kosherinternational award-winning wines provide another quality aspect to the market," concluded Myron.