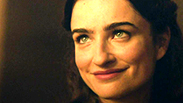 Ania Bukstein in Game of Thrones
Ania Bukstein is finishing up a shining year of work: a leading role on a successful series (False Flag), a piano performance, a new album, and mainly a surprise role in the new season of Game of Thrones.

Bukstein is wary of speaking about her new role in the HBO series for a multitude of reasons. The most important is her contract, which forbids her from telling, hinting, breathing or miming anything that might give away something from the plot of the new season. Bukstein had been a fan of Game of Thrones long before she was invited to act in it, and she knows that its viewers can be very tough regarding spoilers.

But that's not all. It is in Bukstein's nature to celebrate herself as little as possible. "Yes, it's very exciting, but let's calm down. It's not like I'm the new Khaleesi. Game of Thrones came after a ton of hard work. I filmed a lot of audition tapes in front of a white wall at home. I've paid my dues for years. There were lots of 'almosts,' and his first return is very exciting.

"It's part of my path, and that's how you have to look at it. A few years ago, when they had only begun to cast the first season of Game of Thrones, I sent an audition tape. I didn't really know for which role, and I mainly didn't know—and neither did the world—what a hit the series was about to become. But I remember that even then, the scenes that I got excited me, and I completely went with the style. Then, too, I got to a pretty advanced stage, but it didn't work out in the end. And now it's come back to me."

How does something like that get started?

"I have an agent in England who works in coordination with my agent, Zohar Yakobson. A new audition could show up any day. It could be a role in Anna Karenina, an indie film, or a role in Game of Thrones. You learn the text, dress appropriately, style your hair to match, film it, and send it. Dotan, my husband, has already filmed dozens of audition tapes. You get better slowly, and you learn from it. Today, you can absolutely do it here, from the corner of your living room."

Do you understand from the audition what the layers of the role are?

"You don't understand anything. And it doesn't really matter. You do your best if it's for something minor or if it's for some role as a fearsome dragon. I got the scene months ago, a while before the last season ended. I didn't understand how it was connected. I filmed it and sent it. And then you wait.

"Suddenly, one day, it happened. My agent called me. A few days before, we had had a discussion about some film that I passed on, and I thought that he was calling to talk to me about that, and then he told me, 'Ania, you got Game of Thrones.' I think that I said, 'What? What? What?' I wanted to make sure that I heard him right."

Shooting for Bukstein's episode, which will be broadcast this month, took place in Ireland last year. Aside from a stolen selfie in the dressing room, she doesn't have any photographed memories for souvenirs. From the moment that she entered the set, she was required to put her cell phone in a trailer. She only learned about Jon Snow's resurrection a fortnight ago with the rest of the world. The compartmentalization of Game of Thrones works so that each actor only receives their character's lines and not the entire script. That may be the reason that Bukstein didn't realize that another Israeli actor, Yousef Sweid, was filming for the same episode.

"We wrote to each other on Facebook when it was announced; we both were excited, but we also didn't ask each other what the other one was doing. You're always scared that they'll catch you."

Isn't it stressful working like that?

"I wasn't worrying about fear. I was focused, and I managed to really enjoy myself. At the end of the day, everybody comes in order to work, and it's another day of shooting, when standards are very high, and it's right. I think that only when I got to wardrobe did I get a little shock. Something in the clothing, when you suddenly see yourself in the mirror. I said to myself, 'Wow, this thing is really happening.' It's crazy. I remember that I was standing in front of the mirror, and I said to myself, 'Oh my god, oh my god, it's real.' I was in the dress; I was there. They sewed the thing for me. For me!"

At least you had a dress, and you were clothed. That isn't so common on Game of Thrones.

"I've already been naked in the past, so it's not a big deal. If the scene requires it, I'm completely okay with it. For something minor, I wouldn't just give away my flowers," she laughed. "But generally, as an artist, I don't make a big deal out of nudity. If there's something that I can't stand, it's righteousness. And there's a lot of it regarding nudity. Somebody gets naked in a film, and it immediately becomes a headline. Sometimes, people expose so much more than their body. The body is part of life, and life is part of art, and you don't need to make a fuss out of it."