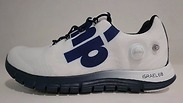 Pro-Palestinian websites were angry to discover that Reebok had released a sneaker commemorating Israel's 68th Independence Day and delighted to report that the company had cancelled its decision. However, it turns out that Reebok never even designed such a sneaker; the whole story ended up being about a single pair of sneakers privately designed to raise money for charity.

The shoe's design, shared far and wide across the internet, was blue and white with "Israel 68" written on the heel. It was described as "a collector's item" scheduled for a "one-time release." However, Reebok was not behind the release and stated that the coverage asserting that such a shoe was to be released was incorrect.

Very soon, anti-Israeli activists expressed their opposition to the initiative online, accusing Reebok of supporting the oppression of the Palestinians.

Reebok, which is owned by the German company Adidas, was quick to release a statement that read, "Reebok would like to distance itself from the shoe. The shoe was a one-off initiative from one of our partners. We do not support this initiative. Our partner has withdrawn its plans to auction off this shoe. Reebok believes in the unifying power of sport. Our main focus and priority is to inspire people everywhere to be their absolute best—physically, mentally and socially."

Pro-Palestinian websites and social media rushed to cover the story and Reebok's announcement that it would not be producing the controversial sneaker.

The site Electronic Intifada, for example, wrote, "Reebok has canceled and repudiated plans to market a special edition sneaker celebrating what Israel calls its 'Independence Day.'" The site went on to allege that the reason for Reebok's distancing itself from the initiative was a result of fear of a BDS (Boycott, Divestment, Sanctions) campaign against it for supporting Israel and its "serious violations of international law."

The site Russia Today reported that Reebok "explained that it doesn't allow the politicization of its sportswear and refrains from tying their products to national emblems or countries." RT then went on, however, to point out past Reebok sneakers with American and British flags incorporated.


Sources close to the company told Ynet that the affair was the result of a mistake by the Israeli subsidiary of the company and that the shoes were designed by a private designer and not by Reebok.

The CEO of Reebok Israel, Moshe Sinai, said to Ynet, "On Reebok's website, there's the option to design a Reebok shoe, color it in the way you want, and add writing. An Israeli guy designed the shoe for Independence Day intending to sell the shoe in an auction and donate the proceeds to charity. Our public relations thought that it would be a good idea to promote this. They made a mistake.

"Now the whole world is angry with us on both sides of the arguement. On one hand, why are we getting into politics; on the other hand, I'm getting requests from all over the world to buy the shoe. We're apolitical. We treat everybody equally, and from our standpoint, we encourage athletes from all over the world."

Doron Pryluk, who designed the shoe, could not believe the storm surrounding his creation. "We went to the international Reebok website," he explained. "There's an option to design a shoe yourself. We designed it pretty simply, blue and white, with the words 'Israel 68' in English. We created just one pair of shoes. We intended to sell them in an auction and donate the proceeds to ('CrossFit without borders,' a program bringing CrossFit to special-needs populations —ed.).

"Reebok's PR people got excited about the story, and it gained momentum in Israel; there were offers, and very quickly, it got to the international press, and it sort of got out of control. It wasn't the original intention. The fundraising (idea) was originally for trainers and for families."

Did you think that designed shoes for Israel's Independence Day could end up somewhere political?

"There's no room for politics here; this wasn't some political statement, but unfortunately it ended up where it ended up. Reebok supports sport in lots of countries. There are entire editions of shoes, with flags of Russia and the USA (etc.). This isn't even an edition—just one pair of shoes that I designed. As soon as there are two (shoes) in the colors of Israel's flag with 'Israel' written on it, it becomes a hullaballoo. Okay, we're used to it. For better and for worse."