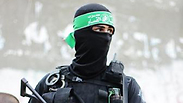 Coordinator of Government Activity in the Territories Maj. Gen. Yoav Mordechai, told a Saudi news website that ISIS activists have entered Gaza from Sinai and are trading weapons and money to Hamas in return for medical care.

Mordechai was speaking with the Saudi online newspaper Elaph. He stated that the members of ISIS entered the Gaza Strip a few days ago from Egypt via the tunnels. The purpose of their visit was to carry out military exercises in the strip, the major general relayed, which they coordinated with a source close to Hamas, Said Abed Al-Aal.

In the interview, the coordinator explained that Hamas is aiding ISIS by providing medical treatment for its people in Gazan hospitals in exchange for money and weaponry. According to Mordechai, there is mutual coordination between the military echelons of Hamas and ISIS, which is known to Hamas's senior political leaders, as well.

Elaph also reported that wounded have been recently transferred from the Sinai Peninsula, where ISIS is active, to Gaza.

This report is expected to embarrass Hamas before Egypt, with whom the terrorist organization is attempting to rehabilitate its relationship. One of Hamas's goals with Egypt is to persuade the government to open the Rafah Crossing with Gaza.