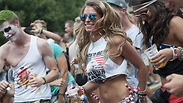 Tomorrowland music festival
The Tomorrowland music festival is organizing "Tomorrowland Unite", whereby a live broadcast of the festival in Belgium will be held at Payis Arena in Jerusalem this summer.

The official Tomorrowland website announced that Israel will participate in the special event on Tuesday July 23. On Tour, the primary marketer of the festival in Belgium, says that popular Israeli demand led to the decision to host the special event in Israel.

Huge numbers of Israelis travel to the Tomorrowland festival every year.

Tomorrowland music festival

Japan, Columbia, Germany, and South Africa will also be hosting "Tomorrowland Unite" events. As for the event in Israel, Eitan Slimi, Guy Baser, and Shai Mor Yosef will produce the event. Tickets will range from NIS 139-169.