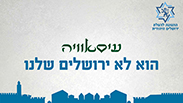 Campaign poster
Photo: Save Jewish Jerusalem
Whilst the political establishment is quarrelling over expanding the coalition, a campaign began Sunday morning calling for separating the 28 Palestinian villages that were annexed to Jerusalem following the Six Day War from the capital. The campaign is run by the Save Jewish Jerusalem (SJJ) movement, which is headed by former high-ranking politicians and military leaders.
Op-ed from an SJJ founder
Op-ed: It's time to fix the tragic mistake made in 1967 and remove most of the 28 Palestinian villages from Jerusalem's municipal area, thereby returning 200,000- 250,000 of the city's Palestinian residents to the West Bank.
Its slogans, being spread throughout the country, are variations on "(One of the 28 Palestinian villages) is not our Jerusalem." The campaign seeks to spread their central idea and put it on the public agenda. SJJ representatives explained that the campaign is necessary in part because of the unequivocal data outlining terrorists' profiles.
Since September 2015, according to the Shin Bet, 60 percent of the terrorist attacks in the capital were perpetrated by residents of the city. SJJ states, "Jerusalem is today the third largest producer of terrorism in Judea and Samaria. More terrorists came (from Jerusalem) in recent months than from Nablus and Jenin."
SJJ calls for a modification of the Basic Law: Jerusalem, Capital of Israel that would separate the Palestinian villages, which currently contain some 200,000 residents, from the capital and Israeli rule in general and return it them to the West Bank. As a result, the permanent residency of the Palestinian citizens would expire, and SJJ also supports building a security fence separating Jerusalem from the separated villages.
The movement estimates that this would save Israel billions of shekels annually.