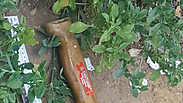 Stabbing attack in Jerusalem
A stabbing attack occurred on Hanevi'im Street in Jerusalem Monday morning. The terrorist was neutralized. Magen David Adom reported that an Israeli man Yehoshua Frank, 26, was stabbed in his ribs and shoulder. and is in light and stable condition.
A paramedic who was on the scene was quoted as saying "immediately after we arrived on the scene we saw a 26 year old man with stab wounds to his upper body. He was fully conscious, and reported that he was walking with his family when he was suddenly attacked. He was wounded while he was fending off the attacker."
According to the spokesperson for the Jerusalem Police, "Jerusalem Police forces and Israel Border Police heard shouting on HaNevi'im Street close to the Damascus gate of the Old City of Jerusalem. They hurried to the scene of a suspected stabbing attack. The attacker fled the scene towards Ben Shadad street, and while running, was observed tossing a knife to the side."
The spokesperson continued, saying "the police pursued the suspect and arrested him. The injured man was evacuated to Shaare Zedek Medical Center."
Frank recalled the incident, saying "I was with my wife on Hanevi'im Street with our twins who were in the stroller, and we were waiting for someone who was supposed to show us a new apartment in the area. All of a sudden, a young man stopped by us. He hesitated for a moment, and I saw that he was taking out a knife. I immediately ran up to him, and he yelled and jumped on me, and stabbed me in the shoulder and ribs. I fought him and pushed him away. Then he threw his knife at me and ran."
"It was a miracle that I noticed him," Frank continued. "My first thought was that G-d forbid he would hurt my kids and my wife. When I went up to him, he focused on me. It's a miracle that I looked around and paid attention to who was stopping next to me."
The terrorist is a 20 year old resident of the West Bank, and has been taken in for questioning.
The Kedem-Jerusalem District Police commander said "the quick response of the police resulted in the immediate arrest of the terrorist, put a stop to the event, and prevented further harm to innocent people."