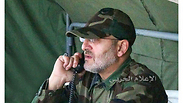 Badreddine. Assassinated in Syria.
Senior Hezbollah spokesmen recently contacted senior journalists in Lebanon and members of the foreign press with an unusual request: Don't mention Israel as being involved in the assassination of senior Hezbollah member Mustafa Badereddine.

The editor of a Beirut daily told Yedioth Ahronoth on Sunday that his paper's reporters called Hezbollah spokespeople right after the publication of Baderaddine's death, asking for comment. Hezbollah's first statement on the matter pointed a finger at Israel, but a second statement was sent hours later clearing the Jewish state of any involvement. "Don't insert Israel's name into the matter," the editor quoted Hezbollah's people.

This is interesting, because it's a contrast to the organization's behavior following three previous assassination cases – those of Imad Mughniyeh, Samir Kuntar, and Jihad Mughniyeh (Imad's son). Following those incidents, Hezbollah was quick to blame Israel and threaten that its revenge will come "in the time and place of our choosing."

"No one is buying (Hezbollah) throwing responsibility (for Badereddine's assassination) onto the rebels in Syria," the editor said, "and the insistence to clear Israel also sounds strange." French journalist George Malbrunot of the Le Figaro newspaper said Sunday that "Senior Hezbollah members contacted foreign press outlets and foreign journalists with the same request: Don't involve Israel's name as the one that carried out the assassination."

One estimate in Beirut is that Hezbollah's leadership decided to avoid opening a new front against Israel, and prevent the possibility of being dragged into a position in which they have to vow their revenge. "Hezbollah is deeply involved in a war in Syria which is taking great effort and causing it casualties, and Iran beleves that Hezbollah's fighters will not be able to handle two fronts," said sources in the Lebanese capital.

Syrian opposition members claimed Sunday that the assassination was an inside job by Hezbollah members who oppose the organization's involvement in Syria.

Meanwhile, Hezbollah has begun dealing with the question of Badreddine's heir. One of the leading candidates in the race to replace him as head of Hezbollah's military operations in Syria is Ibrahim Aqil, a close friend and aid of the late Imad Moghniyeh (who was assassinated in Damascus in 2008). Aqil was responsible for intelligence coordination between Hezbollah and Syria during the Second Lebanon War, and if appointed, he'll be working under Talal Hamiyah, head of Hezbollah's foreign operations.

Ever since news of the assassination went public, Lebanese leaders have had a hard time hiding their schadenfreude regarding Hezbollah's troubles. They also mocked the Assad regime for choosing to remain silent on the matter, waiting until Hezbollah made official statements, even though the assassination happened in territory controlled by Assad's forces. Hazbollah Secretary General Hassan Nasrallah is expected to address the circumstances of Badreddine's death in a speech given on Friday.