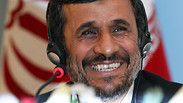 Mahmoud Ahmadinejad
Photo: AP
Ahmadinejad's return to public eye in Iran fuels talk of a comeback
The former Iranian president, a Holocaust denier who repeatedly threatened to annihilate Israel and nurtured Tehran's nuclear program, has been making more and more public appearance of late, sparking rumors he is planning to run for president in 2017.
On a podium decorated as a bunker from the Iran-Iraq war, Mahmoud Ahmadinejad woos a crowd of hundreds with an anti-Western speech reminiscent of his fiery addresses as Iran's president.

At the end of the event in Jiroft in southeast Iran, held partly to honor victims of the 1980-88 Iran-Iraq War, some of the crowd chant: "The slogan of any man is that Ahmadinejad is coming back."

After nearly three years out of the public eye following two terms as president, Ahmadinejad has made a handful of appearances in the past few weeks, including his speech last week in Jiroft, which have stoked talk of a political comeback.

The 59-year-old conservative and populist has made no announcement about his future or addressed speculation that he plans to stand in the next presidential election, due in 2017.

But if he does run, he could cause problems for his pragmatic successor, Hassan Rouhani, who gained popularity after the deal with world powers that led to most sanctions on Iran being lifted in exchange for curbs on its nuclear program.

"In the presidency it's the individual that is important. Political groups are not important. In reality, an individual can start a wave," Massoud Mirkazemi, a former oil minister under Ahmadinejad, told the Asr-e-Iran website in an interview published on Wednesday.

"Whoever can start this wave will get votes. Ahmadinejad has started, and can start this wave," he said, predicting his political ally would defeat Rouhani if he runs.

Ahmadinejad's chances of success are hard to assess.

He did not run in the last presidential election, in June 2013, because of Iranian constitutional limits, and conservatives suffered setbacks in March elections to parliament and the Assembly of Experts which will select Iran's next supreme leader, the country's highest authority.

But Ahmadinejad could be the conservatives' best hope of bouncing back in next year's election although his relations with some of them are strained.

"Hardliners recognize Ahmadinejad is the only person that can stand up to the reformists and their candidates," said Saeed Leylaz, a Tehran-based political analyst who worked as an advisor to former President Mohammad Khatami.

"His activity has grown very, very much. And he's caused a stir in various places."
Online battle
As president for eight years, Ahmadinejad frequently enraged the international community with his fierce rhetoric against the United States and Israel, his defiant stand on Iran's disputed nuclear program and persistent questioning of the Holocaust.

Supporters praise him for defending traditional values and standing up to the West. Opponents criticize him for his economic record and over allegations of high-level corruption while he was president.

Although largely about freedom and democracy, last week's speech in Jiroft hit a familiar theme by condemning "oppressors" in a dig at the West, and the United States in particular.

"I say why did you start a military campaign in Iraq and Afghanistan and kill 1 million people? They say we want to bring freedom there," he told the crowd. "Democracy means a population has the right to choose their own freedom. They kill people for freedom and congratulate themselves."

Ahmadinejad was first elected president in 2005. His disputed win in the 2009 election prompted the Islamic Republic's biggest protests and a security crackdown in which several people were killed and hundreds were arrested.

As Ahmadinejad has become more visible again, supporters have used the Internet to highlight his accomplishments.

A pro-Ahmadinejad blog has published statistics that portray him in a good light, suggesting, for example, that more rural roads were paved while he was in power than have been under Rouhani, but without citing a source for the data.

Ahmadinejad's critics have also been active online. A satirical photograph posted on the Telegram messaging app shows him posing as a school teacher and presenting a lesson, saying: "Through demagoguery we'll make them forget the memories of eight years of misery."

Opponents have also drawn attention to legal charges Ahmadinejad faces. The nature of the charges has not been announced but local media say they are over government procedures not being followed properly. The former president was summoned to court in 2013 but did not show up.

Opponents cite the legal case as an obstacle to be overcome before Ahmadinejad can think about contesting an election.

"Ahmadinejad must first be tried, then introduce himself as a candidate for the elections," Ali Mottahari, a moderate conservative member of parliament, was quoted as saying by state media.
Support of supreme leader?
Before he can run in an election, Ahmadinejad would be likely to need at least the tacit approval of Supreme Leader Ayatollah Ali Khamenei. The support of the Revolutionary Guard, Iran's most powerful military and economic force, would also be a significant boost.

Ahmadinejad long had the backing of Khamenei but clashed with him more than once in his final years in office. In 2011, he boycotted government meetings for 10 days after Khamenei reinstated an intelligence minister Ahmadinejad had dismissed.

The Revolutionary Guard have sent some signals of support.

In March, during the Iranian Nowruz New Year holiday, Rouhani took a trip to the resort island of Kish while Ahmadinejad visited Shalamcheh, scene of a battle in the Iran-Iraq war. The Basij News site, which is affiliated with the Guard, praised Ahmadinejad and questioned why Rouhani had not shown respect for the families of war victims.

Ali Tajernia, a reformist former member of parliament, said in an interview with the Arman-e-Emrouz newspaper last week that "influential people with a role in the power structure" had sent messages to Rouhani urging him not to seek re-election.

If Ahmadinejad does mount a comeback, he is likely to revert to populist rhetoric to tap support.

"Ahmadinejad has his own special base of social media support that he can mobilize," Amir Mohebian, a conservative Tehran-based political strategist and analyst who has advised top politicians, said in response to a question from Reuters.

With the economy set to be a campaign issue, Rouhani will try to show the lifting of sanctions is bringing economic gains. If he fails to do so, Ahmadinejad is likely to repeat promises to spread the country's wealth to the poor and disenfranchised.

Rouhani could hit back by making the allegations of corruption during Ahmadinejad's rule a campaign issue. Rouhani came to power on promises to root out corruption, and in March a businessman allegedly linked to top officials from Ahmadinejad's time in office was sentenced to death.