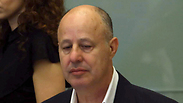 Tzachi Hanegbi
Photo: Gil Yohanan
Prime Minister Benjamin Netanyahu decided on Monday to appoint MK David Bitan as the chairman of the coalition instead of MK Tzachi Hanegbi, who will be appointed a minister without portfolio.

Despite Netanyahu's decision, in private conversations Hanegbi has rejected the possibility of being appointed a minister without portfolio.

Bitan will continue to serve as the chair of the Knesset's House Committee until the end of the summer session, and will then be replaced by MK Yoav Kish. MK Avi Dichter will replace Hanegbi as the chair of the Foreign Affairs and Defense Committee.

Netanyahu updated Finance Minister Moshe Kahlon of the appointments and the latter expressed no objection.

Senior officials in the Likud party said that "no one is pressuring for a portfolio, so the prime minister has no reason to make a whole series of appointments right now. Other than Hanegbi and Bitan, he has no intention of manning the other ministries any time soon, unless that is done as part of the expansion of the government."

In addition to being the prime minister, Netanyahu is also the communications minister, the foreign minister, the economy minister and the minister of regional cooperation.

Netanyahu is holding talks with opposition leader Isaac Herzog, who heads the Labor party, over forming a unity government. On Sunday, the prime minister also called on Yisrael Beytenu leader Avigdor Lieberman to join the government.

Lieberman was not impressed by the prime minister's call, saying "Don't be tempted by cheap spins. Bibi (Netanyahu) wants Bougie (Herzog) and the rest is just nonsense. When a proper, serious offer is made to Yisrael Beytenu, we'll consider it."

Lieberman accused the Netanyahu government of "not building in Jerusalem or the settlement blocs in Judea and Samaria, returning terrorists' bodies, and in short - any connection between the government and the national camp is purely coincidental."