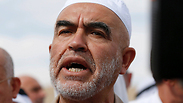 Raed Salah, leader of the Northern Branch of the Islamic Movement
Photo: AFP
When is the last time you visited Umm Al-Fahm? It's reasonable to assume that you've never been there. What is the first thing that comes to mind when you hear the name Umm Al-Fahm? You may think that it is the city of Sheikh Raed Salah, leader of the Northern Branch of the Islamic Movement in Israel, which was recently outlawed. Or you may think of the mountains of salad and stuffed vegetables at Al-Babur restaurant, Said Abu Shakra's gallery, or the city's forthcoming museum, all of which pay homage to a hopeful Palestinian narrative that accepts the possibility of coexistence.

I recently visited Umm Al-Fahm with a group of Israelis. Coincidentally, our visit took place on the same day Raed Salah entered prison. Before our visit, locals erected a tent to bid farewell to Salah. The police also advised four members of Knesset, two Arabs and two Jews, to visit Um Al-Faham only after Salah's imprisonment took place, for fear of riots. As for my tour, we visited the local gallery and some restaurants. The main theme of the tour focused on a loaded topic: How to create to a household environment in which to raise young children successfully, and integrate them into their community, without inculcating radical Islamic ideology.

With 52,000 residents, Umm Al-Fahm is third largest Arab city in Israel, after Nazareth and Rahat. The northern Arab city suffers from poverty, neglected infrastructure, pollution, and a high unemployment rate. Forty percent of the city's residents are young people under the age of 18, and another 20 percent are under the age of 40. No matter how you look at it, many unemployed young women are struggling to find work and will end up joining the Islamic Movement. This speaks for itself.

Another disturbing fact is that 600 households are defined by Israeli law as single-parent households. And these households do not receive the same support that Jewish households receive. This unusual phenomenon is related to politics of our neighborhood: 600 women who were born and raised in Um Al-Faham, married—and are still married to—men who are not Israeli (Palestinians from the West Bank, Gaza, or Jordan). These women, with their children, decided to move away from their husbands and return to live in their birthplace. It seems that they find living under Israeli authority to be more comfortable. Their partners are denied entry into Israel because of the fear they will seek permanent residence. Thus, 600 married women and their 3500 children end up in the precarious situation of a single-parent household, which does receive support from the government.

The "Joint Ashalim" project and other NGOs have the filled the gaps where the government is absent. These groups have funded and organized educational programs in the depths of these poor neighborhoods. They have provided nurseries, kindergartens, clubs, a library, psychological assistance, and guidance for mothers on how to communicate with their children. The leaders of these groups say that on the one hand they are raising the next generation to integrate into the state, but on the other they cannot promise equal opportunity. Meanwhile, the Islamic Movement is providing a place of refuge to anyone, and the state's institutions are looking the other way.