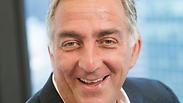 Maccabi Tel Aviv was absent from the Berlin Euroleague basketball final between CSKA Moscow and Fenerbahce Istanbul, Israel was still represented in the game. Special sensors developed by an Israeli company were attached to referees and coaches, allowing viewers to obtain information on what was happening in the game, such as the excitement of the judges and coaches, as well as the intensity of the fan's excitement.
The sensors measure and analyze the behavior of the coaches of the teams playing in the Final Four to determine the extent to which their behavior affects the game.
Similarly, the behavior and participation of the fans is also measured and analyzed. Fans at home will have access to unique data about their favorite teams and will thus be able to have a more tangible experience closer in nature to actually being at the match.
The joint project is called HEED, which brings together Israeli technology entrepreneur Mati Kochavi, head of the cybersecurity company AGT International, with the CEO of the talent agency WME-IMG, Ari Emanuel, one of the most powerful people in the worldwide entertainment industry and the brother of Chicago's Mayor Ram Emanuel.