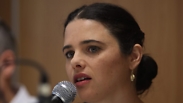 Ayelet Shaked
Photo: Motti Kimchi
A set of new regulations designed to help couples facing divorce settle their disputes has come into effect earlier this week.
The regulations under the Resolution of Family Disputes Law, suggested by Minister of Justice Ayelet Shaked, mandate that couples in dispute must take part in a mediation process in an effort to come to a consensual agreement before appearing in front of a court of law or rabbinic court.
The amendnment aims to reduce the amount of litigation resulting from such cases, along with the acrimony and waste of money they tends to generate.
Shaked has already obtained the necessary funding to allow the courts to provide mediation to the potentially high number of requests.
Under the new regulations, any married individual approaching divorce who wishes to file a couple's dispute claim will first have to submit a request asking to resolve the conflict. The request will then be directed to the court's social services unit, which will invite both parties to participate in four mediatory sessions sans legal representation.
As part of the mediation, feuding couples will receive information on the mediation process itself and on the legal proceedings that await them in case they do not reach an agreement.
In addition, couples taking part in the mediation will learn about the possible impacts that ongoing disputes can have on any children involved, as they are guided in an attempt to reach an agreement concerning such subjects as child support, custody and property division.
The meetings incldued in the required mediation process will be free of charge, with the mediators being civil servants, most of them lawyers or social workers. During the mediation period, both parties will not be allowed to file claims against one another, apart from requests for temporary relief aimed at keeping the status quo or requests for emergency relief.
If both parties do not reach an agreement, whichever party had initiated the proceedings will be allowed to submit a claim to the relevant court to discuss the matter further, while being allowed to continue the mediation process if they so choose. Any additional meetings beyond this point will come at a cost, though it has been agreed upon that it will not be high.
The new regulations will be instated for three years, during which their efficiency will be examined.
It is important to note that the meetings are not set up to provide couple's therapy, and that their purpose is not to have the couple reconcile, but rather to help them respectfully reach a breakup that is concensual, fair and built upon conditions that both parties can meet over time.
"In many cases, an agreement can be reached and the courts can be avoided, which will benefit the citizens and make it easier for the system to encourage all parties involved to make joint decisions," said Minister Shaked."We need to remember that parental disputes cause damage especially for the children, and that it is our duty to protect them. I'm grateful to MKs Shuli Mualem (Bayit Yehudi) and Merav Michaeli (Zionist Union), who initiated the procedure."
So far, the new regulations have faced some opposition from lawyers, whose livelihood could be affected by a greater reliance on mediation as opposed to litigation when settling such disputes. "I feel there are people who are against the law and are trying to sabotage the regulations," said Constitution, Law and Justice Committee Chairman MK Nissan Slomiansky (Bayit Yehudi). "I will not allow it."