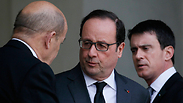 Francois Hollande
Photo: Reuters
France postpones Middle East conference to summer
French President Hollande says peace summit, initially scheduled for May 30, will be postponed to accomodate US Secretary of State Kerry; 'This initiative is necessary because if nothing happens, then colonization, attacks, terrorist attacks and several conflicts are going to continue.'
PARIS - French President Francois Hollande said on Tuesday an international conference due in late May in Paris to relaunch peace talks between Palestinians and Israelis had been postponed but would take place this summer.

With US efforts to broker a two-state accord in tatters and Washington focused on its November presidential election, Paris has lobbied countries to hold a conference before then to get Israelis and Palestinians back to the negotiating table.

French Foreign Minister Jean-Marc Ayrault had proposed May 30 for the talks, but US Secretary of State John Kerry is not available on that date, Hollande told Europe 1 radio.

"John Kerry cannot come on May 30. It's postponed, it will take place, it will take place in the course of the summer," he said in an interview.

"This initiative is necessary because if nothing happens, if there is no strong French initiative, then colonization, attacks, terrorist attacks and several conflicts are going to continue," he added.

Israel objects to the initiative, with Prime Minister Benjamin Netanyahu stressing that the only way to advance a true peace between us and the Palestinians is by means of direct negotiations between us and them, without preconditions," adding that "any other attempt only makes peace more remote and gives the Palestinians an escape hatch to avoid confronting the root of the conflict."

Hamas, meanwhile, said the decision to postpone the summit "is another proof of the failure of Abbas's policies and of the option of reaching a diplomatic agreement."

Hollande also voiced regret about a resolution passed by the United Nations cultural body UNESCO last month that failed to acknowledge Jewish ties to Jerusalem's holiest site and caused anger in Israel,

"There was an unfortunate amendment put forward by the Jordanians ... which blurred this text," Hollande said of the decision which concerns the site known to Muslims as Haram al-Sharif or the al-Aqsa compound and to Jews as Temple Mount. The resolution only used the Arabic terms for the site.

"I promise to be extremely vigilant when the next resolution is put forward in October," he said. "I will look at it personally. It's not possible to call into question the fact that these holy sites belong to three religions," he added.

Elior Levy contributed to this report.