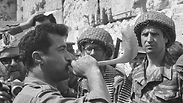 Capturing the Western Wall
Photo: Bemahane
He featured in one of the most famous photographs in the history of the State of Israel: "Paratroopers at the Western Wall," taken by photographer David Rubinger after the recapture of the site during the Six-Day War. Now, 49 years after it was taken, former paratrooper Dr. Yitzhak Yifat reenacted the photo in a moving way—with his grandchildren standing beside him.
Yifat was originally photographed at the Western Wall alongside his comrades-in-arms, Haim Oshri and Zion Karasanti, after the liberation of Jerusalem during the Six-Day War. As a paratrooper at the center of the image, with tears in his eyes and his helmet held in his hands, Yifat became one of the symbols of that war.
So what recently brought him back to the Western Wall with his grandchildren? A special exhibition of the Ministry for Social Equality, which opens Tuesday at Beit Hatfutsot - The Museum of the Jewish People entitled "Photos tell stories."
The exhibition, which is the concluding event of a "multi-generational relationship" program, shows photos of senior citizens alongside new photos, which were reenacted by their grandchildren.
Yifat was photographed with his three grandchildren: Matan, 11, Oz, 5, and Shira, 3.
"One of the fantastic things that makes a person happy is his ability to pass on to the next generation what he went through," said the former paratrooper. "It was a great pleasure to accompany my older grandson, tell him the story of the war and to see that he enjoyed it and had fun.
His grandson Matan was equally excited and stated that he would follow in this grandfather's footsteps. "I feel really proud that my grandfather is the famous paratrooper from the Wall," he said. "I also intend to join the paratroopers. Only the paratroopers. They're the best, they're always ready, and most importantly: I want to continue my grandfather's legacy."
Yifat was glad to hear his grandson's words and expressed a wish: "I'm thinking of jumping with him (in his paratrooper training), if I manage to," he said. "In any case, I wish him much success as a paratrooper with all my heart."
Social Equality Minister Gila Gamliel explained that the project combines social activism and Zionist values. "I am excited to see the results," she said. "When youth is introduced, through the multi-generational relationship, to the country's early years and its difficulties then, they absorb the strong spirit and the ideals of the older generation."