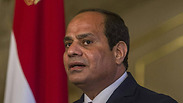 Egyptian President Abdel Fattah al-Sisi
Egyptian President Abdel Fattah al-Sisi declared his support on Tuesday for the French initiative to hold a Mideast peace conference later this year.
He called on Israel and the Palestinians to seize what he described as a "realistic" and "great" opportunity to reach a peaceful settlement to their decades-old conflict.
The Egyptian president stated further that the Israelis and Palestinians need look no farther than the 1979 Egyptian-Israeli peace treaty to see the positive outcome of peacemaking.
Al-Sisi said the amount of animosity between Egypt and Israel that had existed prior to the conclusion of the landmark accord was no different from how the Palestinians and Israelis feel now. He also affirmed that Egypt is prepared to "make every effort" to contribute to an Israeli-Palestinian settlement and promised Israel warmer ties if it accpets efforts to resume peace talks with the Palestinians.
"If we are able to solve the issue of our Palestinian brothers it will achieve warmer peace ... I ask that the Israeli leadership allow this speech to be broadcast in Israeli one or two times as this is a genuine opportunity," Sisi said.
Al-Sisi also called on the Palestinian leadership to reach a reconciliation agreement. "I say to our Palestinian brothers, you must unite the different factions in order to achieve reconciliation and quickly. We as Egypt are prepared to take on this role. It is a real opportunity to find a long-awaited solution."
Shortly after al-Sisi's speech, Prime Minister Benjamin Netanyahu issued a statement, welcoming al-Sisi's remarks. Netanyahu said, "I welcome Egyptian President El-Sisi's remarks and his willingness to make every effort to advance a future of peace and security between us and the Palestinians and the peoples of the region. Israel is ready to participate with Egypt and other Arab states in advancing both the diplomatic process and stability in the region. I appreciate President El-Sisi's work and also draw encouragement from his leadership on this important issue."
Opposition Leader Isaac Herzog also welcomed al-Sisi's speech. He said, "I applaud the Egyptian President's announcement. It was a dramatic announcement that reflects a possibility for a historic process, where the moderate Arab world expects Israel to courageously, strongly and soberly and extend its hand."
Itamar Eichner contributed to this report.