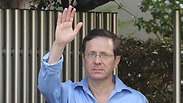 Herzog this morning
Photo: Shaul Golan
Isaac Herzog is facing fierce opposition from members of his own Labor party over his intentions to join Prime Minister Benjamin Netanyahu's government, with senior party members talking about an inevitable split within the party.

Labor officials claimed on Tuesday that Herzog had already finalized with Netanyahu most of the details over joining the coalition and is now working to get the party's members on board.

These officials said that Herzog—along with allies MK Eitan Cabel and Histadrut Labor Federation chairman Avi Nissenkorn—have already begun preparing the groundwork on Monday. Herzog is planning a blitz of phone calls to thousands of party members to convince them to support the agreement he has reached with Netanyahu, which will likely be presented next week.

"There were messages that got to me and to Netanyahu from senior regional and international officials who are saying there is a significant regional opportunity to restart the (peace) process - don't miss that opportunity," Herzog said. "Al-Sisi's remarks were significant. These things were not coordinated in advance but they fell on sympathetic ears, as Bibi has been telling the region he wants to move forward but that he has been politically restricted. For the first time in many years, an Arab president is saying things so clearly."

Herzog, however, did not find sympathetic ears in his own party. "If Herzog joins the government, it will break the party apart," a party official said. "Many MKs will stay out (of the government). Bougie is so eager to join the government because he realizes that if the move fails, he will have finished his role as the chairman of the opposition. He's feeling like Samson - 'Let me die with the Philistines!' And the most shameful part of it is that he wants to join the government under demeaning terms."

"There is a real risk that the Labor party will fall apart under Herzog's leadership," MK Mickey Rosenthal said. "Bougie is putting the final nail in his own coffin. He is betraying our voters' trust and if he remains at the head of the party we'll get less than 10 seats in the next elections. The injury to the Labor party is a critical one, and the party will not be saved unless Herzog is replaced."

MK Erel Margalit asserted on Tuesday that Herzog no longer has the legitimacy to negotiate with Netanyahu. "The negotiations Netanyahu's conducting are not done with the Labor party as one unit, but with officials who do not represent the views of the voters, nor of the elected—and Netanyahu should know this," Margalit said. "Instead of the opposition trying to disassemble the government, the government is trying to disassemble the opposition. Unfortunately, there are those who are falling for that trick."

Former party leader Shelly Yachimovich leveled unprecedented scathing criticism at Herzog on Tuesday, claiming that "Netanyahu threw Herzog a bone and ordered him to retrieve it on all fours. His 'offer' should have been categorically rejected."

She went on to say that Herzog was crawling into the government under disgraceful terms. "I tried to be respectful of Bougie. We held several meetings during which I told him what I thought clearly and emphatically, while he kept coming back with the same pitiful offer that includes jobs, and just jobs, with no substance or any power to make a difference, with nothing. Double nothing."




Herzog's office said in response: "Yachimovich is not familiar with all of the details and is preaching against the offer out of political motives. We suggest she waits until the talks are finalized, and she is expected to wait and study the facts if and when an offer arrives. Until then, she should avoid making threats, using violent language, and making disgraceful comparisons to animals."

MK Eitan Cabel, who is a close ally of Herzog's, told Ynet on Wednesday morning that much of the information reported in the media about the agreement that is being formulated "is not rooted in reality, Herzog isn't groveling or crawling, the question of portfolios is not the main issue at all. The main struggle is for principles and worldviews," noting that the main topics on the table were issues of foreign policy and defense.

When asked why he is now in favor of joining Netanyahu's government after the criticism he leveled at the prime minister, Cabel responded that "First of all, Netanyahu is not Hamas. In the past, I vehemently objected to joining the government, but it wasn't because I was against the people themselves. In the end, what's important here is the principle of the matter, whether we can bring about a change."

While granting that "history doesn't show that Netanyahu can be trusted," Cabel stressed that "we can't keep saying that 'since we could never trust him, then we can't now either.'"

Cabel also asserted that the Labor Party Conference will back the proposal Herzog will bring to the table.