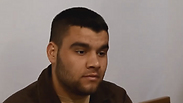 Nur al-Din Abu Khashiyeh
Photo: Yariv Katz
Nur al-Din Abu Khashiyeh, 20, from the Askar refugee camp in Nablus, was convicted on Wednesday of the murder of IDF soldier First Sergeant Almog Shiloni in November 2014.

The Tel Aviv District Court ruled that the murder was premeditated.

The verdict described the murder as a "terrible and heart-rending affair in which the life of soldier Almog Shiloni was taken. The attack was not spontaneous in nature. He (Abu Khashiyeh) bought a knife at the flea market, and when he noticed the soldier he decided to execute his evil plan."

"The defendant," the verdict went on to say, "insisted on testifying, and in a short, focused and surprising testimony, after having pled not guilty, he abandoned his line of defense and admitted to all of the charges attributed to him."

Abu Khashiyeh gave a chilling testimony during the trial, saying "It's true that I murdered Almog Shiloni. I wanted to take his weapon and spray everyone because of what your rabbis are doing in al-Aqsa. I wanted to keep going, kill everyone on the street, continue everyone's job. I murdered him. I planned to murder him."

"These words," the verdict noted, "speak for themselves."

According to the indictment, "Abu Khashiyeh illegally entered Israel on November 9, 2014, seeking to stab a soldier and achieve martyrdom. He went to an empty apartment in Jaffa and the next morning went out looking for work. When he couldn't find work, he bought a knife at the flea market.

"At around 12pm, Abu Khashiyeh noticed a soldier carrying an M-16 rifle at the Hagana Train Station, and decided to murder him and take his weapon to harm other people. He jumped Shiloni and stabbed him repeatedly, while Shiloni fought him. The terrorist tried to snatch (Shiloni's) weapon, but a civilian who arrived at the scene hit him and scared him off. Abu Khashiyeh was caught on the fourth floor of a nearby building by three Border Police soldiers."

Shiloni was critically wounded and died at the hospital the next day.

The demolition order issued for Abu Khashiyeh's house was throw out a year later by the High Court of Justice. The judges determined that the long delay in carrying out the demolition—11 months from the day of the attack—is not reasonable and will therefore not lead to the deterrence sought.

Yosef Shiloni, the slain soldier's father, said with visible emotion at the end of the hearing, "The pain is immense, the loss is immense. We can't bring Almog back. We trust that the prosecution and the court to ensure that justice will be served."

The father said it was difficult for him and his family to see the terrorist at court.