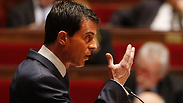 French Prime Minister Manuel Valls
Photo: AFP
"France is concerned about Israel's security," explained French Prime Minister Manuel Valls in a special interview with Yedioth Ahronoth, Ynet's sister publication, ahead of his visit to Israel on Saturday to promote the French initiative to convene a Middle East peace summit.

The initial meeting of the summit, opposed by Israel, was supposed to take place at the end of the month without Israel and the Palestinian Authority, but French President François Hollande announced its postponement until next month due to US Secretary of State John Kerry's scheduling problems.

Valls, considered to be one of the friendliest European leaders to Israel, clarified that the French initiative is designed to prevent another round of violence or war between Israel and the Palestinians. "We think that the status quo works against Israel, the Palestinians, and peace," he said:

Valls called on Arab states to recognize Israel and strengthen the peace process in the region. "Recognition of Israel by several countries would be a gesture of particular importance to help advance the peace process and encourage the Israelis. No one can cast doubt, even for a moment, on Israel's existence and security. Everyone should participate, as much they possibly can," said the French Prime Minister.

Valls stressed that he will call on the Palestinians to end incitement and violence when he meets with the Palestinian leadership in Ramallah.

He also expressed regret about France's support of UNESCO's decision on the status of Jerusalem, which disregards any Jewish connection to the holy city, and said that there is a link between fight against Islamist terror by Europe and France and Israel's situation.

Valls, a leader of the right wing of the Socialist Party and considered to be one of President Hollande's possible successors, insisted on his country's total opposition to the Boycott, Divestment, and Sanctions (BDS) movement against Israel, and he sees a connection from it to anti-Semitism. Valls, whose wife is Jewish, strongly condemns the anti-Semitic violence of the extreme right and left wings in his country and in Europe. However, he is careful with how he discusses the matter in relation to the Muslim community:

Valls affirmed the connection between France and Jews and called on Israel to recognize Jews' part in French history: "France is not France without its Jews." He continued, "The decision to move to Israel is an individual or family choice, which takes into account many considerations, and I respect that. But when it comes to urgent calls for Jews to leave France because they are not safe anymore, we are now talking about another motivation. We are acting with a firm hand to guarantee their safety and to fight any signs of hatred and anti-Semitism. French Jews need France, and France needs its Jews. I ask the Israelis to consider the history of our country."