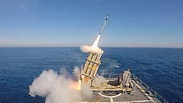 Iron Dome in action on the high seas
Five years after the first Hamas rocket was shot down by the Iron Dome missile defense system over the Israeli city of Ashkelon, the IDF has taken another unprecedented step by testing the system's effectiveness while stationed on a naval vessel.

The tests, which took place in February, saw the Iron Dome system installed on a missile ship sailing 20 miles from the Israeli coastline.

Three dummy grad rockets were shot from the shore at the ship, and were successfully tracked by the Iron Dome. The ship-mounted missile defense system then successfully shot all three of the dummy missiles out of the sky.

Iron Dome intercepts from far out at sea (צילום : דובר צה"ל ואביהו שפירא)

One of the main challenges in operating the Iron Dome at sea is having the radar effectively track targets and accurately shoot its interceptor missiles at an incoming projectile while the system is moving with the ship and pitches back and forth due to wave activity.

The navy is expected to incorporate Iron Dome into its defensive systems, and it will be built into the new Sa'ar 6 class corvette currently being built in Germany.

The primary objective of the seaborne Iron Dome is to protect Israeli offshore oil and gas platforms from Hamas and Hezbollah rockets. Hamas shot missiles at Israeli offshore drilling platforms during Operation Protective Edge, but the missiles failed to make a hit.