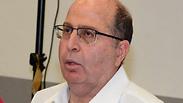 Defense Minister Ya'alon
Photo: Herzl Yosef
Ya'alon 'not surprised' defense minister job taken from him
Close associates say the defense minister saw the move to oust him taking shape behind the scenes; 'Netanyahu wanted to expand the government at any cost, and the tensions between Ya'alon and Netanyahu also played a part,' says one associate.
It was business as usual for Defense Minister Moshe Ya'alon on Wednesday after being informed by Prime Minister Benjamin Netanyahu that his job was given to Yisrael Beytenu leader Avigdor Lieberman.

"I'm not surprised and I'm not concerned by it," Ya'alon told his close associates.

One of them said Ya'alon "is not hurt or offended, we knew about this move that was taking shape behind the scenes."

"Bibi (Netanyahu) wanted to expand the government at any cost, and the tensions between Ya'alon and Netanyahu also played a part," the associate added.

Another close associate claimed that Ya'alon's recent strong statements in support of the IDF were viewed as a threat by Netanyahu. "Ya'alon was starting to gain a lot of support from the public—and that made Netanyahu nervous."

But Meir Ramon, a close friend of Ya'alon, said on Thursday morning: "I think he feels hurt, and he believes in the righteousness of his way. Perhaps he's hoping that this move falls through, but he's a strong, brave man who will get through this obstacle as well."

Ramon asserted that "Lieberman is right wing in his words; Bogie (Ya'alon) is right wing in his actions. Everyone knows that what Bogie did, as an elected representative, for the settlement enterprise, no minister has done before him."

He went on to say that Ya'alon "knew that in order to have a broad coalition, concessions will have to be made, but he never believed those concessions will be made in the Defense Ministry."

Ramon said he urged Ya'alon to stay in the Likud party and believes that he will. "The next prime minister will come from the Likud, and I say this with great sadness as a member of the Labor party. If he wants to be the prime minister, and I believe he does, he needs to be the next candidate after Netanyahu."

He accused Netanyahu of "sacrificing (Ya'alon) on the altar of the broad coalition. Bogie has declared many times that he will not oppose Netanyahu. It could be that this move would cause him, in a year or two, to finally oppose Netanyahu."

Officials in the Prime Minister's Office said Wednesday that Netanyahu is currently examining the option of giving Ya'alon the Foreign Ministry instead. Ya'alon's associates said he would accept such an offer.

Many of Likud's ministers were quick to welcome Lieberman's appointment—among them Yuval Steinitz, Miri Regev and Yisrael Katz—after having clashed with Ya'alon over the past few months.

"It's better to have a stable national camp government than a false unity government that would not be stable," Minister Ze'ev Elkin said.

Transportation Minister Yisrael Katz called Lieberman's Yisrael Beytenu party "a natural partner for the national camp government."

A Likud official went as far as saying that "most of the Likud ministers who wanted to see Bogie outside the Defense Ministry are walking around with a big smile right now."

Meanwhile, Likud activists were angered by the development, saying it was "a humiliation of one of Likud's greatest assets."