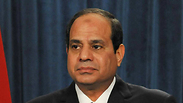 Abdel Fattah al-Sisi
Photo: AP
Egyptians furious over Israel's 'political bazaar' at 'expense of the peace process'
Cairo caught by surprise after talks to bring Herzog's Labor into the government fell through and Lieberman was offered the Defense Ministry; 'We received a real shock: We started with Herzog and we're ending up with Lieberman.'
Cairo is furious and frustrated at what Egyptian officials close to President Abdel Fattah al-Sisi called "the political bazaar" that Prime Minister Benjamin Netanyahu is holding "at the expense of the peace process."

"We are, of course, not interfering in Israel's internal politics, but we're following the situation and calculating our moves," a senior Egyptian diplomatic official explained.

Netanyahu had been negotiating with Labor leader Isaac Herzog in an effort to bring the latter's party into the government. As negotiations were ongoing, al-Sisi made a speech in which he backed the French peace initiative. Both Herzog and Netanyahu were quick to welcome the Egyptian president's statements.

After al-Sisi's speech, Herzog remarked that "There were messages that got to me and to Netanyahu from senior regional and international officials who are saying there is a significant regional opportunity to restart the (peace) process - don't miss that opportunity. Al-Sisi's remarks were significant. These things were not coordinated in advance but they fell on sympathetic ears, as Bibi has been telling the region he wants to move forward but that he has been politically restricted. For the first time in many years, an Arab president is saying things so clearly."

But the negotiations fell through on Wednesday after Netanyahu met with Yisrael Beytenu leader Avigdor Lieberman and offered him the defense minister's position in return for bringing his party into the government, leaving Herzog on the outs.

"We have to admit that we received a real shock: We started with Herzog and we're ending up with Lieberman," the Egyptian official said.

"Netanyahu," the official continued, "managed to surprise us at the last moment. We're used to surprises on the Israeli side, but this time it's a bad surprise that we were really not prepared for."

Lieberman has been a "red line" for the Egyptians ever since he threatened, during ousted President Hosni Mubarak's time in power, to blow up the Aswan Dam and leveled harsh criticism about Egypt's peace accord with Israel and its president, saying "He doesn't want to talk to us? He can go to hell."

Mubarak and his government announced Lieberman was considered a persona non grata in Egypt.

Egyptian political advisers said on Wednesday that al-Sisi will not rescind his support of the peace initiative, "but what's happening right now in Israeli politics teaches Egypt an important lesson: We must conduct ourselves cautiously, slowly, and demand guarantees and supervision by a third party for every move and every decision made."