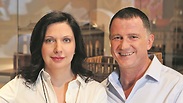 Nevzlin and Edelstein
Photo: Alex Kolomoisky
When Irina Nevzlin was 13 years old, her grandmother took her on a visit to Israel.

"We arrived from Russia to the Western Wall, and I must admit I had no idea what all these stones were. I hardly knew I was Jewish," she says. "But despite my ignorance, I remember standing there and crying for hours. And I am not someone who cries easily. Maybe that's why I remember that experience so well. Today, I know that was the most meaningful moment in my life. That was the beginning of my journey towards Judaism and Israel."

This coming summer, Nevzlin, 37, and Knesset Speaker Yuli Edelstein, 57, will get married in Jerusalem. "I have no doubt that ahead of the wedding, I will go back to the Western Wall, which had such a profound meaning in my life," she says.

A few days afterwards, the couple will have their wedding party at the Ronit Ranch with hundreds of guests, including the prime minister and Israel's top political echelons.

"At first, we were nervous about the number of invites, especially Irina," says Edelstein. "She spoke with one of her friends, and said 'I can understand why we have a lot of people on his side, he has to invite a lot of people because of politics and the demands of the office. But why do I need so many guests?' and her wise friend said to her 'maybe it's because you are finally at home?' I think that the fact that after only 10 years in Israel, Irina has so many friends, really says a lot."



Their relationship is surprising on many levels; not only because of the 20 years that separate them, but also because of the difference in background and life story. Edelstein, a Zionist activist who taught Hebrew in secret, is a religious resident of Gush Etzion. Nevzlin is a non-practicing, secular Jewish woman living in a villa in Herzliya Pituach. And yet, in their first joint interview, they stress that the things they have in common far outweigh the differences: The memories they share from Moscow, the Jewish identity in a hostile environment, and the Russian language that rolls off their tongues when there is no one else around – all these things help love prevail.
A combination of luck and smarts
Our meeting takes place in Nevzlin's offices in the Diaspora Museum, where she serves as Chairwoman of the Board of Directors. It's hard to detect any evidence of the fortune father is believed to have. Leonid Nevezlin, who was one of the heads of the Yukos Oil Company, made his big fortune when Boris Yeltzin was President of Russia. Coffee is served in plastic cups from the coffee-shop on the floor above us, and Irina walks around wearing a T-shirt, jeans and sneakers.

Is it important to you to shatter the image of the oligarch's daughter?

"I am not concerned with the image. I was born in a humble blue-collar neighborhood, finished my BA and MA degrees in economics, and started working while I was still a student. The course of my life was very normal. I understand the need to see the world through stigmas, and I don't intend to fight it. But in my daily life, I simply go to work. There is some sort of conceptual confusion in Israel. The word 'Oligarch' is used here to describe a very wealthy Russian, while the real meaning of the term is someone who is close to the regime. But I don't live by images, I simply live my life. As for the clothes, I always have a jacket and high-heel shoes in the closet if the need arises."

Such need arises these days mainly when meeting with potential donors and asking for their help in the extensive renovations of the Diaspora Museum. As part of the renovations, a new, state-of-the-art wing will be opened at the end of the month devoted to current, lighter aspects of modern Judaism. The goal, says Nevzlin, is to bring new audiences to the museum, people who haven't been interested in the museum so far.

"I've talked to her about her modesty many times before," says future-husband Edelstein. "I told her it's probably a combination of luck and smarts. Luck – because she grew up in a blue-collar neighborhood in Moscow and was not surrounded by luxury. And smarts – because when she had the opportunity to live a life of opulence and wealth, she chose not to, continued to do her work and realized that there are things that are more important than money."

She was born in 1978, the daughter of two engineers - Leonid and Anna. "Following the divorce, I lived with my mother and her husband," she says. "In Russia, the only religion was Communism, and we were forbidden to speak about our Judaism. When I was seven years old, someone called me 'Jew' in a derogative way, and grandma, who was a teacher at my school, decided it was time to tell me the truth.

"'I am going to tell you two things,' she said to me. 'There are two Jews in this entire school. You and I. And we are not going to say another word about it ever again.'

"That is all I heard until that visit to the Western Wall. When I was 14, I transferred to a Jewish school, and it was there that I felt I belonged to a group bigger than my family for the first time. That I was a Jew. That feeling is connected to my work at the museum."

During her MA studies Nevzlin started working with Mikhail Khodorkovsky, her father's partner in Yukos. "Khodorkovsky asked me to establish a philanthropic foundation that would help talented students go to the best universities in the world, and then return home to build the New Russia. Khodorkovsky was the one who made me look forward and think on a wider scale."

In 2003, after expressing harsh criticism against Putin, Khodorkovsky was imprisoned for 10 years for tax violations, followed by the nationalization of Yukos Oil Company by the state. He was declared "Prisoner of Conscience" by Amnesty International, and after his release, he went on voluntary exile in Switzerland.

The day Khodorkovsky entered prison, Nevzlin quit her job. "He was imprisoned because of his views, and because of Yukos's success," she says. "I went to every office of every editor-in-chief of every newspaper in Russia, and said 'a man of his stature, with his image and his everything he has done for Russian society – it's just unheard of. We were at a constitutive and defining moment in Russian's history, after the fall of communism. Until his imprisonment, we felt like we had freedom of speech and we could do business. But suddenly it turned out that if you don't toe the government line – you go to prison. It was clear that after they got Khodorkovsky, they will find their way to my father."

After Khodorkovsky's arrest, Nevzlin's father fled to Israel. In 2008, he was convicted by a Russian court of conspiracy to commit murder, and was sentenced in absentia to life in prison. Nevzlin vehemently denied all the accusations, and claimed it was a spectacle trial. Israel, in turn, denied all extradition demands made by Russia.

Did you feel threatened personally?

"For a few weeks, after my father had left Russia, I knew that there was always someone following me, driving behind me. They didn't try to hide it. It's part of the KGB method, and it's done to send a message. As one who didn't grow up in the Soviet era, this reality was very foreign to me. But I've always heard about it. What was happening brought back all the stories I grew up with."

Edelstein remembers his time in Russia. "We both experienced persecution,"' he says. "The things she went through reminded me of my own experiences. The surveillance is mainly a form of psychological pressure that is applied when everywhere you go, you have a shadow, someone following you, and even bump into you on the street on purpose. I remember one time when I was with friends, and we had to go to a certain address. A car was following us, and we lost our way while they moved on to the address they were given. And then, in the middle of the road, the driver made a U-turn and raced toward us because he thought we were trying to pull a brilliant maneuver."
Goodbye to Russia
In December 1984, Edelstein was falsely convicted of possession of drugs and sent to three years of imprisonment at a hard labor camp near Lake Baikal.

"Because I was teaching Hebrew, the authorities used to come and turn my library upside down and confiscate my books. That one time, before I was arrested, the search of my house began as usual. The investigators brought two cardboard boxes form a nearby grocery store, and collected all the foreign books. But then, one of the investigators pulled out a match and said 'there are many witnesses who saw me take this box from the shelf.' Inside the box, they claimed, were drugs, and a few days later I was arrested for possession. When I tell this to people, they ask me 'were you really using?' Irina never asked me that. She understands."

In May 1987, after being incarcerated for two years and eight months, Edelstein was released from prison. On the day of his release, he told his friends that the date according to the Jewish calendar was the 5th of Iyar, Israel's Independence Day. So this year, at the traditional torch-lighting ceremony, Edelstein also celebrated 29 years of freedom.

"During the ceremony I usually say 'in honor of Jerusalem, in honor of the Knesset.' This time, the dedication was in hope of an 'honorable and sane discourse in Israel' – the main issue and the real threat to society today."

Nevzlin left Russia for London in 2003, and never returned. "I don't wish to go back to a country in which my father is a wanted man," she says. "When I left I didn't know I was leaving Russia never to return. It took several months for me to realize that I wasn't going back. I called my mother a few months after I arrived in London, and said 'I don't think I'll stay here forever, but I do know where I am not going back to.' This feeling, that you can be a citizen with equal rights, freedom of choice and freedom of speech, the fact that you are living in a democratic system that works for your benefit – I found it enchanting."

In London, she worked for a strategic consulting firm. "One Friday evening, we were in a meeting that just went on and on," she remembers, "and a nice guy wearing a yarmulke came over and asked me 'what are you doing tonight?' I was all alone there, so I admitted that I didn't know, and he invited me to his home for Shabbat dinner. Somehow he realized that I was Jewish and alone in the city. This nice guy was Lord John Mendelson, and we continue doing things together. At present, he's helping me raise money for the museum."

In 2006, after three years in London, Nevzlin decided to immigrate to Israel. "My mother was tired of being away from everybody, and decided to make aliyah. I told her I'll come and help her settle in, as I have been here several times before, and knew a few people. I took a night-flight, got into my seat, closed my eyes, and at that moment I just knew that I was making aliyah. That I, too, am going to Israel to stay."

Did you know what you were going to do in Israel?

"I went to consult with Rabbi Firer, and we had a very interesting conversation. This meeting led to the creation of the 'Israeli Center for a Better Childhood,' which was established to contribute to the welfare and advancement of Israeli children who are in need of help in the fields of education and health."

At the same time, Nevzlin began working with the Diaspora Museum. In this capacity she met Yuli Edelstein. "Our first meeting took place many years ago – my father introduced us during one of his visits here," she says. "Afterwards, we got to meet a few times as part of my work at the Diaspora Museum, when Yuli was minister of information and the Diaspora. We had some joint projects, and used to hold consultations on different issues."
A non-political relationship
Edelestein's wife, Tania, died of cancer three years ago. Nevzlin divorced her architect husband Michael Cogan a year and a half ago. The meeting that would kindle their romantic relationship took place several months later, in May 2015.

"We met at a Tel Aviv café," Edelstein recalls. "Before then, I was married and wasn't looking for a romantic relationship. Once, after we had gotten together, I told her 'you have no idea how kind I was to you and how serious I was about you.' During the primaries, she wanted to set up a meeting to consult with me on something, and I dropped everything and came."

What can you tell us about the marriage proposal?

Edelstein: "I proposed 25 times before she said 'yes.'"

Nevzlin: "After the divorce, I decided that I was never going to marry again, that I need to be by myself, that it's more convenient this way. I'm an independent person, sometimes too independent. But one can't ignore the heart, and whatever happened - happened."

Edelstein: "And then, not only did she agree to marry me, she also agreed not to wear jeans."

Edelstein, you're a religious man living in a settlement, and Nevzlin, you're a secular woman living in Herzliya Pituach. Were you not bothered by the differences?

Nevzlin: "It works fine with my pluralistic world view. On a day-to-day basis, it may not always be easy, but there is mutual respect, and of course there is love. On Friday evening we do Kiddush, a novelty for me, and my children are very happy about it. I'm happy too, because it creates a homey feeling, which is very moving for me."

Edelstein: "The move to Herzliya was not easy for me. It's not a case of tossing a coin to decide where we are going to live. My children are grown and independent, but Irina has two school-aged children. It's a very different way of life for me. I made aliyah on July 12, 1987, and on July 13 I was already in Gush Etzion. At a certain point, when we realized that this relationship was meaningful and serious, we fantasized about living in two separate homes. But in the end, we decided that I would move to her house. To her credit, Irina did everything it took so that I don't have to eat from plastic plates.

"On my first Shabbat in Herzliya, I found a synagogue to my liking. One of the people there was even a volunteer in my campaign during the last primaries. It's not as if I found myself in Singapore. Herzliya has quite a few Jews living there, thank God."

Nevzlin: "This is not Tel Aviv, which would've been a lot harder for him to adjust to. We have our own private quiet corner. There are a lot of similarities in our lifestyles. Unlike many of my friends who only live in the Tel Aviv bubble, we both live in many other places as well. We go to meetings all the time, and travel a lot. Both of us are very open and curious people."

Edelstein: "To her credit, Irina is not the type of person to just shout slogans. She is ready to consider new things. On Passover's Chol Hamoed (the interim days—ed.) we visited some very interesting places that she has never been to before."

Nevzlin: "We were in Hebron. When Yuli suggested I go there with him, I felt no reservations. I have a need to feel the country and get to know it, and the notion of seeing it with him made it even more appealing. My visit to the Cave of the Patriarchs, for instance, was an emotional experience similar to the one I had as a little girl of 13 at the Western Wall. I stood next to the tomb of Abraham, and felt a connection to something very ancient and strong. But yes, it also crossed my mind that this place is not entirely ours. That this is the cradle of all nations."

Edelstein: "We have to agree on one basic premise: We're not going to disappear from here, and neither are the Arabs. We have to live together. We have to drop the slogans and start building connections with our neighbors. We won't go back to the '67 borders, and we won't divide Jerusalem. It's just not going to happen. I am a pragmatic person, and out of my pragmatism I am telling you that it's not going to happen. When we begin having talks that will eventually lead to peace, we will all laugh about these questions that seem so critical now—what will we do about the Western Wall? In a two states for two nations solution, where exactly is the border going to be?"

And where do you stand politically, Nevzlin?

Nevzlin: "A part of Yuli's job is to define his political voice, but I am exempt from it. My job at the Diaspora Museum, a place that adopts an inclusive pluralistic approach, requires me to be a-political outwardly. On the other hand, I am very interested in politics. I follow the election campaign in the US very closely, and try to understand the feelings of need and distress of the public, which are reflected in the American presidential campaign."

Their wedding is going to be big, they say, but not exuberant. "At first, we were worried about what people would say, because we really did invite a lot of guests, but then we realized that we are not faking anything. If anyone expects rivers of champagne and mountains of caviar, they will be disappointed," says Edelstein.

Nevzlin is quick to add that "these champagne and caviar events are exactly the ones we usually avoid."

One thing is clear. Since the prime minister is expected to attend, the security measures will be very tight. Even the food is going to be screened.

They plan to donate all the wedding gifts to NGOs that support lone soldiers. "Life goes on in a very surprising way," says Edelstein. "After Tania's death, I had no idea this could happen. I am a professional survivor. I wasn't worried about being heartbroken for the rest of my life, but I also couldn't imagine that I would be interviewed about a new love. That was the last thing on my mind. And to all my well-wishers who kept asking, 'why are you sitting all alone three months….six months…a year….' I replied that I don't see myself in another relationship. 'I haven't forgotten the woman I shared my life with for 33 years,' I said. But even if we don't expect it, life is more powerful than anything we could imagine. I don't know what I did to deserve this privilege, but I was lucky to meet a woman like Irina."
Diaspora Museum's new wing includes Bob Dylan
The new wing at the Diaspora Museum, or as it's now called "Beit Hatfusot – the Museum of the Jewish People," will be opened at the end of the month. Contrary to expectations, this new wing holds a modern, light approach, easily accessible to a younger audience, and concentrating on recent history – World Judaism in the last 200 years. The new wing features TV screens that show video clips of Sephardi and Ashkenazi synagogues, both Orthodox and Reform; videos and songs by Bob Dylan that express his complicated dialogue with Judaism; stand-up skits with Jackie Levy and Kobi Arieli; a special exhibition dedicated "Operation Moses," the covert evacuation of Ethiopian Jews from Sudan during a famine in 1984; and even pictures of women wearing tefillin (phylacteries—ed.).

The people behind the new wing, as well as the other changes done at the museum, are the chairwoman of the board, Irina Nevzlin, and the general manager, Dan Tadmor. The project cost $100 million: $20 million came from the state, the Nevzlin family added another $20 million, and the rest came from donations.

"In 2003, there were those who said that this place should be shut down," says Nevzlin. "It was old and dull, and the number of visitors was the same as the number of employees. But closing it wasn't an easy decision to make. Especially because of all the unique items that have been accumulated there. You need to understand, the Diaspora Museum opened in 1978. The plans started way back in the 60s, stemming from the desire to tell the history of the Jewish Diaspora, with the prevailing notion at that time that all Jews are supposed, at one point or another, to move to Israel. Over the years, the number of Jews in the world rose, and the Diaspora Jewish community continued being a living, breathing and growing organism. Right now, less than half of the world's Jews live in Israel.

"The museum was not only technologically outdated, it was conceptually outdated," says Nevzlin. "Jews around the world could no longer consider the museum their home. Think of an American Jewish tourist coming to the Diaspora Museum, and being told a story that is completely disconnected from his reality. His life is in the United States, and the museum is pushing him to make aliyah. How can he feel connected to that? The message was offensive, and drove tourists away."

The people behind the original idea were Natan Sharansky, the former chairman of the board, and Shlomo Lahat, who occupied this position before him. Both of them felt that the way the museum was being managed , there was no reason to continue the flow of government funds.

Next, Leonid Nevzlin, Irina's father, got involved. He established a philanthropic NGO, the "Nadav Fund," that helped raise donations for the museum.

"The fund supports initiatives that advance the understanding of the concept of Jewish peoplehood, the building of the collective Jewish identity, and the forming of long-term connections among Jews all over the world," says Nevzlin.

In 2006, she joined a meeting with her father and Sharansky. "My father said: 'The only reason to keep the museum going is if it tells a never-ending story, the story of the Jewish people of today. There are enough history museums.' This sentence stayed with me."

Irina was appointed as a member of the board of directors, acted as deputy chairman, and later accepted the offer to chair the board.

She doesn't deny that her appointment was at first met with a certain amount of suspicion from those thinking the position was given to her only because of her father's money and connections.

"I think it's quite natural," she says. "Even when I hear that somebody's son was appointment for something, the first thing that crosses my mind is that this job was arranged for him. But before I became chairwoman, I served as they deputy-chair for two years, and I was very involved in everything. So there were all sorts of rumors, mainly from the outside world, but it didn't interfere with the work."

As part of the changes she is leading, Nevzlin wants to focus not only on the Jewish people's disasters, but also on stories of success.

"Because this nation, even in the Diaspora, didn't just survive. People were successful, influential, became connected. You can't reduce Jewish history to the Holocaust and nothing else. People constantly confuse the Diaspora Museum with Yad Vashem, but the difference is significant. Yad Vashem focuses on a very important story, which we must continue telling. But there are another 5,000 years of Jewish history that aren't mentioned there. And that is the story we are telling."

In Israel, there is a vigorous debate regarding to what degree the memory of the Holocaust needs to be preserved.

"The Holocaust is what finally brought us to this country. It should have a place, but not as the only and central issue. It has to be put in context that allows us to look at the future as well. Because if we only concentrate on the past, we will remain there."

Why did you choose Bob Dylan?

Bob Dylan and "Operation Moses" are temporary exhibitions. We thought that to strengthen the sense of belonging, we should speak to everyone's heart. Some people can relate to the fascinating Jewish story through music. One of the reasons we chose Bob Dylan and not Leonard Cohen, for example, is that we wanted to present someone who has questions about his Jewish belief. To show that it's OK to doubt. You don't have to be certain that the fact you are Jewish is necessarily the best thing to ever happen to you. The answers are not always clear cut."

Did you deliberately choose a more pluralistic approach?

"Yes. We want to tell everybody's story – to show that a woman can serve as a cantor, to show Reform and Conservative synagogues. I believe we should make room for everybody. Present everyone. We uploaded all the material we have onto the internet. Anyone with some basic knowledge about his grandfather's family name or the town he came from can enter the site and try to locate his family tree."

Did you?

"Of course. I found that my grandfather and grandmother met at a dance party in Crimea, when he lived in St. Petersburg and she in Moscow. But two generations prior to that, they lived in two 'shtetles' in Belarus, which were a mere three kilometers apart. So they actually came full circle."