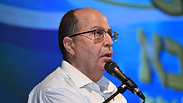 Minister of Defense Moshe Ya'alon announced on Friday morning on his Facebook and Twitter feeds that he has resigned from his ministerial position and from the Knesset. He further announced a break from political life.

The post reads, "I informed the prime minister this morning that following his recent actions and developments, and given the lack of faith in him, I am resigning from the government and the Knesset and taking a break from political life."

Ya'alon also announced that he intends to hold a press conference at noon at the Ministry of Defense headquarters in Tel Aviv.

It was announced on Wednesday night that Avigdor Lieberman, leader of Yisrael Beytenu, would be bringing his party to join the coalition. Lieberman himself is to receive the defense portflio. Reportedly, Ya'alon, who had been growing distant from Prime Minister Benjamin Netanyahu, was not surprised at this development.

Ya'alon's resignation is to take effect on Sunday and Lieberman is to take his place on Tuesday. In the intervenine two days, the defense portfolio will be temporarily held by the prime minister, in addition to his foreign affairs, communications, regional cooperation and economy portfolios.

Replacing Ya'alon in the Knesset will be the next person on the Likud party list, Rabbi Yehuda Glick. Glick, 50, is originally from the United States and is a prominent right-wing activist. He survived an assassination attempt in 2014.