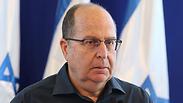 Moshe Ya'alon
Photo: Motti Kimchi
After resigning on Friday morning both from the position of defense minister and as an MK, Moshe Ya'alon held a press conference at noon in Tel Aviv at the headquarters of the Ministry of Defense.
At the conference, Ya'alon began by stating that, though he was taking a break, he did "not intend to leave political and public life."
"In all my actions and decisions, I saw before my eyes the security of the state and its good above every other consideration."
Ya'alon addressed the political storm that led to his resignation, "I found myself in difficult political arguments with the prime minister over core values."
"Regrettably, there are senior politicians in our country who have chosen to incite and split up sections of Israeli society from one another, instead of unifying and connecting them. I find it unacceptable that we be divided due to cynicism and a lust for power, and I have repeatedly voiced my opinion on the matter out of honest concern for the future of both the current generation in Israel and the ones that will follow.
"Those who lead us must do so based on ethics, an inner compass and at times against an opposing gale-force wind. They should work to outline a path, and not get blown off course for electoral reasons or in light of public surveys, nor should they conduct or agree to any reckless and irresponsible discourse."
He continued, "Fundamentalist influences have taken over Likud. This is not the same Likud that I joined. A spirit of fracturing is ruling the movement.
The outgoing defense minister addressed his work, "I fought with all my strength against the phenomena of extremism, violence and racism in Israeli society that threatens our might and also permeates the IDF, and has already damaged it.
"In the future I will return to contend for Israel's national leadership."
On Sunday afternoon, the IDF general staff is to hold a modest farewell ceremony for Ya'alon.
In a message posted to his Twitter feed and Facebook page on Friday morning, Ya'alon wrote, "I informed the prime minister this morning that following his recent actions and developments, and given the lack of faith in him, I am resigning from the government and the Knesset and taking a break from political life."
It was announced on Wednesday night that Avigdor Lieberman, leader of Yisrael Beytenu, would be bringing his party to join the coalition. Lieberman himself is to receive the defense portflio. Reportedly, Ya'alon, who had been growing distant from Prime Minister Benjamin Netanyahu, was not surprised at this development.