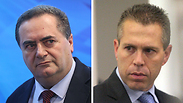 Yisrael Katz and Gilad Erdan
Photo: Alex Kolomoisky
High-ranking Likud ministers have been showing unprecedented restraint while the prime minister expands and restructures the coalition.

The typical political infighting and competition to be appointed foreign minister hasn't taken place—until now.

Ya'alon was slated to receive the portfolio as compensation for leaving his post as defense minister. However, with him gone and Lieberman joining the coalition, the political maneuvering and infighting within the party has begun.

However, Netanyahu previously stated that he isn't willing to give the foreign minister position to anyone in Likud, as he needed to use it as a bargaining chip with other parties to expand the government.

The prime minister also said that he was saving the position in case Zionist Union Chairman Isaac Herzog joined the coalition, something which ended up not happening.

With Yisrael Beytenu becoming part of the government and the defense minister portfolio being granted to Avigdor Lieberman, many estimate that the right-wing party will request the foreign ministry portfolio as well.

This assessment comes from the fact that although Likud won 30 seats in the Knesset in the latest elections, none of its members are in control of any of the more prestigious ministries; the Ministry of Finance was given to the chairman of the Kulanu party, Moshe Kahlon, Netanyahu held onto the foreign portfolio, and, with Ya'alon's resignation, Yisrael Beytenu is gaining defense.

"We find ourselves in an absurd situation," said a high-ranking Likud member. "Likud, which has won more seats that it's won in a long time, simply isn't involved in any of the larger ministries. It's as if we aren't in control of the government. Kahlon in the Finance Ministry, Lieberman in the Defense Ministry, and we have nothing."

If the portfolio is indeed given to someone in the Likud party, it's likely that there will be fierce competition between two strong contenders, the first being current Public Security Minister Gilad Erdan.

Erdan is thought of as a popular minister, and even came in first in the Likud party primaries. According to high-ranking Likud members, Netanyahu promised him that if the foreign minister portfolio needs to be filled by a Likud member, Erdan will receive it.

In conversations between Netanyahu and Erdan, it is clear that the prime minister views Erdan as the highest ranking minister in Likud.

The other contender is Transportation and Intelligence Minister Yisrael Katz. According to senior Likud members, he too received several guarantees regarding his appointment as foreign minister. In trying to choose between the two ministers, Netanyahu has gotten himself caught up in a situation whereby it will be impossible for him to remove himself from the political infighting, and he will do everything in his power not to appoint either one of them.