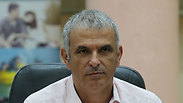 Minister of Finance Moshe Kahlon
A senior member of Moshe Kahlon's Kulanu told Ynet on Sunday that the party will not support an amendment to the law that would make it easier for military courts to sentence terrorists to death, a bill being pushed by Yisrael Beytenu leader Avigdor Lieberman who is in talks to join the government.
"Israel's defense establishment is in agreement that this is a bad idea that it will not contribute to the fight against terror or to Israel's security," the official said. "It's an inappropriate suggestion both on an ethical and operational level. Any attempt by the government or the Knesset to act in such an irresponsible manner will come up against a wall comprised of all ten of Kulanu's MKs."
Yisrael Beytenu has yet to officially sign the agreement to join the government due to budgetary issues over the party's demand to complete the pension reform and its demand to amend the law to allow death sentence to terrorists.
Likud Minister Yariv Levin has been working with Lieberman to formulate a draft bill proposal on death sentence to terrorists that could withstand the High Court's judgment.
One of the options is to amend the legislation that allows the military court to hand out capital punishment to terrorists if a unanimous decision is made by three judges, and change it so only two judges suffice.
If the sides fail to reach a final agreement on the legislation, it is possible they will commit to working on the legislation during the upcoming Knesset session.
On Friday, Lieberman and Finance Minister Moshe Kahlon held their first meeting on the pension reform. At first, Lieberman sought to secure pensions only for immigrants from the former Soviet Union, but it was eventually decided to apply the planned reform on all immigrants, as well as on other Israelis who did not work enough years to accumulate sufficient pension funds.
The cost of the reform stands at about NIS 3 billion, a sum that could only be allocated if it is done gradually over the period of a few years.
Lieberman and Kahlon agreed to meet again at the beginning of the week to finalize the details.