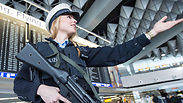 A police officer at a Frankfurt airport
Photo: AFP
Fighting terrorists with technology
Several Israeli companies have been working on advanced solution to fight terrorism more effectively and without putting security personnel at harm's way, including an automatic interrogation of suspects at airports, advanced cameras with facial recognition software, and radar that pinpoints drones flying in sensitive air space.
Attacks on airports have always been among terrorist organizations' preferred objectives, leading to increased security. But from time to time, despite the investment of billions on security personnel and a range of security measure, terrorists still manage to strike. Brussels was the latest casualty, sending shockwaves throughout Europe.

Ben-Gurion International Airport is considered one of the safest airports in the world, which led to unprecedented interest in security measures developed in Israel, with several Israeli companies now selling their wares all over the world.

The problem of interrogating terror suspects or immigrants in a time when the right to privacy at times might outweigh common sense led an Israeli company to develop an automatic interrogation system for suspicious individuals at airports or employees who are under scrutiny for one reason or another.

Suspect Detections Systems Ltd. (SDS) developed the COGITO System, which incorporates various sensors to detect nervousness by identifying increased salt levels in perspiration, an increase in sweat production, pressure in the veins, and thermal changes in the face.

It allows interrogation in every language without the involvement of a human agent.

"It can interrogate immigrants to detect if any of them joined ISIS while abroad and employees who are covertly assisting terrorists," said Shabtai Shoval, one of the company's CEOs.
Identifying terrorists' anxiety before an attack
SDS was founded in 2004 by Eran Drukman, formerly vice president of sales at Nice Ltd., Gal Peleg, a senior algorithm developer formerly with Comverse, the late Yeshayahu Horowitz, formerly the head of the polygraph division with the Israel Police, and Shabtai Shoval. The company was financed by the US Department of Homeland Security and has worked closely with the Israeli defense establishment in developing its technology.
According to Shoval, the sensors the system uses can identify changes in suspects' physiology or increasing anxiety before an attack from a distance and thereby aid in the identification of attackers entering public spaces, such as airport terminals, stadiums and subway stations.
"When buying the system that SDS developed, Israel, the United States, Russia, China, Singapore, Mexico and Central America realized it was the only tool that can pick terrorists out of a crowd," said Eran Drukman, another one of SDS's CEOs.
"Without any specific intelligence, there is no technological way to filter out terrorists from among hundreds of thousands of innocent people without using our system. At the moment, the European nations are finding it tough to accept the severity of their situation and the fact that in order to ensure safety, they have to pay the price with a certain level of infringement of the right to privacy of those seeking to immigrate to their countries or are returning to them from elsewhere."
Drukman asserted that at some point in the future, European countries will come to the conclusion that interrogating a person who wants to reside within their border is the only way of identifying dangerous individuals and that the cost of a certain minimal invasion of that immigrant's privacy will have to be paid.
Instant identification
Another way to identify a rapidly moving individual has been developed by Farkash Security Technology Ltd. (FST), founded some eight years ago by Maj.-Gen. (res.) Ze'evi Farkash, formerly head of Military Intelligence, who has served as the company's CEO since its inception.
The company developed facial recognition software that, using a camera, can identify human beings in milliseconds, allowing users to dispense with older means of identification such as ID cards, codes or keys that can be stolen or lent to unauthorized users. It is already in use in several airports around the world.
The company has recently participated in many international security expos and was also featured in the Israeli pavilion of the Israel Export Institute, with many visitors expressing keen interest.
"We believe that, in the 21st century, technology can allow us to identify individuals in motion with a high degree of accuracy and without requiring them to slow down," said Aryeh Melamed, FST's vice president for marketing.
"FST uses software that engages in an initial registration process lasting less than a minute, after which the security camera will identify the individual in milliseconds, with a very high degree of certainty. This is better than what any human security agent or any older identification system can do."
According to Melamed, all biometrical information, including facial and body analysis, is encoded and saved by the most stringent privacy and confidentiality standards in the world.
"The system is currently being tested for use in identifying members of various airlines' frequent flyer clubs to shorten the security screening and identification process for them," he added.
Drone-detecting radar
Another threat that sensitive facilities – such as airports – have had to deal with in recent years is remote-controlled drones. The possibility that a terrorist organization would use drones to carry out an attack has often been discussed.
The company that developed a technology to handle this threat effectively is Magna BSP Ltd., which built a passive electro-optical radar system using unique technology, ensuring a higher than 99 percent success rate and minimal false alarms for use on perimeters, at borders and in sensitive facilities.
The radar system has one more important advantage: it does not broadcast and does not interfere with the activity of other parties, making it safe to use at airports, as it doesn't obstruct communication between the control tower and airplanes.
Among the company's customers are Ben-Gurion International Airport, the Israel Prison Service, the Ministry of Defense, the IDF and customers abroad.