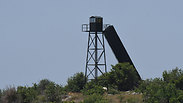 Lebanese observation tower
Photo: Aviyahu Shapira
The Lebanese military has built several observation towers on the Lebanese side of the border between Israel and Lebanon in recent weeks.

The towers provide the Lebanese army with strategic observation posts from which they can observe Israeli military bases, the border fence, the patrol road next to the border fence, civilian roads in Israel, and various towns and kibbutzim along the border.

People who live in these border communities are saying that, while these observation towers are currently manned by Lebanese Army soldiers, they are concerned that Hezbollah will take them over during the next war.

The observation towers are located between the town of Rosh Hanikra and Moshav Zar'it. One of the main worries expressed by Lebanese border community residents is the fact that these towers were built in such a short period of time—within the space of a month.

"A month ago, there wasn't anything there," a resident of Moshav Zar'it explained, talking about an observation tower built which overlooks the moshav's mushroom facility.

"They initially just put the tower up. Then, a few weeks later, they built the steps leading up to the watch post," the resident said.

The watchtower is able to watch over anything that goes on between Moshav Zar'it and Kibbutz Admit, and all of the military installations in between. There are three watchtowers alone within sight of the kibbutz: to the northeast, the north, and the northwest.

Regarding an observation tower overlooking Kibbutz Hanita, Erez Adar, the security coordinator of the kibbutz, said, "This tower is less than a third of a mile from the kibbutz. We are worried about getting shot at from the tower, as it's so close. While the Lebanese Army may be the ones manning the tower for now, it's clear that during the next war, these positions will be manned by Hezbollah.

According to the security coordinator, the residents of the communities on the border with Lebanon trust the IDF, and hope that the towers will be destroyed quickly during the next round of violence.

"We're worried about any change that happens on the border and follow every development," said the resident of another kibbutz. "When we see these types of things being built, we expect quick responses from the IDF."

The IDF Spokesperson's Unit said, "The IDF is following the issue. There is no change in the security situation."

According to UN Security Council Resolution 1701, which ended the Second Lebanon War, the area where the observation towers were built is supposed to be a demilitarized zone. Therefore, according to the resolution, the towers are not allowed to have any weapons in them.