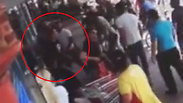 Undercover police officers and Border Police officers attacked an Arab Israeli employee outside the supermarket where he works on Sunday afternoon. The Police Investigation Unit of the State Attorney's office, charged with investigating allegations of illegal activity and complaints against police, are looking into the incident.

Kobi Cohen, the attacked man's employer at Super Yuda across from Rabin Square in Tel Aviv, told Ynet that two undercover police officers came up to his worker outside the store.

Security footage of the incident

"They asked him to identify himself to them, but they didn't show him a badge," said Cohen. "In response, he asked them to identify themselves first. They called for police backup, and when they arrived, they started to hit him."

Cohen added, "They spoke with him, and he stood there. He didn't try to run away; his arms were even folded. At a certain point, a manager in the white shirt came and tried to mediate between them, but then forces came on the scene. Another eight undercover policemen encircled him and just started whaling on him. The employees that tried to separate them got hit too, and then they laid out the Arab employee and beat him like crazy. He didn't have a knife that was endangering them. They beat him mercilessly until they took him out of commission. We were all shocked by what happened. There's only reason for it: It's because the guy was Arab."

The Israel Police commented on the incident, "Following the wave of terrorist attacks, and as part of its internal security tasks in general, the Israel Police operates with determination to locate and remove illegal aliens from across the country in the interest of public safety.

"The results of the initial investigation show that Border Police officers identified a youth that aroused their suspicion, and they asked him to identify himself. The suspect refused to identify himself while cursing and attacking the officers, and he even bit one of them. To make an arrest, the officers were obliged to use force while the suspect continued to violently attack the police.

"As a result of the intensity of the violence directed at them, the two police officers had to receive medical treatment at Ichilov Hospital for bruises and bites. However, in accordance with police procedures and as is customary in events in which police are required to use force to carry out their tasks, all the information will be sent for examination by the Police Investigation Unit. The Israel Police will continue to operate resolutely against those who threaten the lives of Israel's citizens."