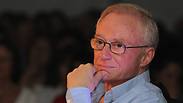 Israeli author David Grossman has come under attack on social media. In recent days, Arab activists have called on Obeikan, which has a number of bookstores in the Arab world, to remove Grossman's books from their display shelves.

One online activist, Abdullah Al-Bashri, took a photo of Grossman's book in the window display of an Obeikan bookstore in Saudi Arabia. Alongside the photo, he wrote, "The chain is using its shelves to sell and distribute a book by an Israeli author. This picture was captured today at an (Obeikan bookstore) at Al-Zahran Mall."

Another activist wrote: "Even if the book is not political, that fact it exists in our libraries supports the philosophy of the Zionist entity and those who live there now after millions were expelled."

Yet another activist posted, "Every person who belongs to the occupying Zionist entity is an enemy. No normalization with occupying murderers."

David Grossman's books have been sold in the Arab world for many years. Two months ago, Grossman was interviewed by Euronews and laid out his theory of the conflict and ways to resolve it. In the same interview, Grossman stated that it is not a bad idea to label settlement products.