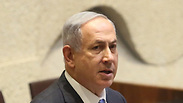 בנימין נתניהו פתיחת מושב קיץ של ה כנסת ירושלים
In a special Knesset meeting on the occasion to commemorate Theodore Herzl, Prime Minister Benjamin Netanyahu said that he still intends to expand the government.

"The door is open to anyone who wants to lend a had to benefit the state. We have no other land, and we have no other country. We have one country, an amazing country, a country we need to protect and promote.

Netanyahu continued by saying that there is an opportunity to create policy "to protect our abilities to deal not only with the challenges which stand before us, but also the different opportunities which will be opened to us because of geo-political changes, the relations we have with different Arab countries."

"I am working with all my strength to build the government," he went on to say. "I said I would do it when started a year ago, and I am continuing with these efforts to form as wide of a government as possible."

Netanyahu also noted that "there is still a lot to do and a lot to fix. However, I need to say that there is no justification for this excessive irritability which runs wild amongst certain groups. Israel is a stable country; look at the region we're in. We're almost the only stable, advanced, innovative, democratic, state here. Our country distributes light in a region of darkness."
Herzog: Netanyahu has been taken captive by extremists
Opposition and Zionist Union Chairman Isaac Herzog spoke following Netanyahu. He blamed Netanyahu for the failure in government negotiations, saying "I'm sorry to say, but at the end of the day, in deciding whether to be a leader who will go down in history as someone who went against the mainstream and a leader who decided to drift with the mainstream and go into the great ocean of forgotten politicians, Netanyahu made his decision."

Herzog continued, saying "(Netanyahu) slammed the door closed to changing the future; he slammed the door on the leaders in the region, to the leaders of Europe and the US, and he became a captive of a dangerous and extremist political group, a group which will lead him and us into a national disaster that has already started to take form. Some of us prefer to continue to live under a glorious illusion that everything will be fine."

Herzog added "it's saddens me, Mr. Netanyahu, that you chose to zigzag. It saddens me that it is you who slammed the door and it saddens me that you chose to abandon the good of the state in favor of your narrow political interests. Twitter will remember you fondly, but history wont."

After Herzog's speech but before the meeting was adjourned, Netanyahu returned to the lectern, and said "I haven't closed the door. The door is open. There is still an opportunity to unite the nation. There is an opportunity for national reconciliation. I call upon you and your members not to miss this opportunity, and to join the national effort."

Netanyahu spoke at a Likud meeting afterwards. "In negotiations, there are ups and downs. Do you know how many negotiations I've taken part in?" He continued, "We need the things that will provide us with a foundation to lead. There are always crises and everything is always collapsing. (But in reality) nothing is collapsing. I suggest not being taken away by extreme mood swings."

Finance Minister Moshe Kahlon discussed Yisrael Beytenu's demands at a Kulanu meeting. He said, "We are not going to allow for anything to happen." Kahlon added, "The proposal that the Finance Ministry presented today to Yisrael Beytenu is very fair. It doesn't discriminate against people or provide for special or sectoral funds. When one sector receives funding and another doesn't, gaps open up, and we will not allow for that to happen."