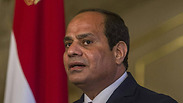 President Abdel Fattah al-Sisi
While France has pushing for an international peace summit in Paris in an effort to restart negotiations between Israel and the Palestinians, Egypt has been working behind the scenes on its own diplomatic initiative.

The last few days have seen significant diplomatic efforts led by Egypt designed to organize a summit between Prime Minister Benjamin Netanyahu, Palestinian President Mahmoud Abbas and Egyptian President Abdel Fattah al-Sisi. The latter, who intends to mediate between the two, is said to be planning the summit to take place in Cairo.

"I say to the Israelis and ask the Israeli leadership to allow the broadcast of this speech at least once or twice. There is a real opportunity for peace even if in the short term there is no real basis given the conditions in the region," al-Sisi said on Egyptian television.

A senior Palestinian official confirmed to Ynet on Monday night that contact had indeed been established between the two conflicting parties via the Egyptians in an effort to hold the summit in the near future. Despite the fact that these efforts are yet to have formalized into anything concrete, the Palestinians say all the relevant sides are involved in the matter and no one has dismissed the possibility of such a meeting.

From the Palestinian perspective, the fact that al-Sisi—considered to have a lot of influence over the Palestinian leadership—is the one behind the initiative, greatly increases the chances that the summit will come to pass. Moreover, given the close security relationship between Jerusalem and al-Sisi's administration, it is believed that even Israel will find it difficult to refuse the Egyptian initiative - especially since Netanyahu himself has been repeatedly saying that he is prepared to meet with Abbas and engage in direct negotiations.

Last week, al-Sisi called on Israel and the Palestinians to work towards a peace agreement that will bring an end hostilities, citing the Israel-Egypt peace treaty as a positive example and precedent of what could emerge from a similar Israeli-Palestinian agreement. However, with talks currently underway in Israel about Avigdor Lieberman joining the government and filling the recently vacated post of defense minister, Egypt has expressed its dismay.

The Prime Minister's Office on Monday night declined to comment on the subject.