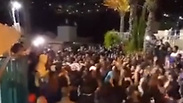 The funeral of terrorist Alaa Abu Jamal from Jabel Mukaber turned into a display of hatred and incitement overnight Monday, with some 200 East Jerusalem residents crowding outside the cemetery and calling out "Allahu Akbar" and "In blood and spirit we will avenge you, shahid."

In response, Public Security Minister Gilad Erdan instructed the police on Tuesday to stop the returning of terrorists' bodies to their families for burials.

"I was just shown the outrageous images from the funeral last night in East Jerusalem, in which the conditions set by the police were violated and the commitments made by the families were broken," Erdan said. "The terrorists' families lied to the High Court of Justice. It's a shame the High Court believed them and pressured the police to return all the bodies by Ramadan."

But while Erdan claims the family has broken its commitments, police said the family met the conditions it had been set, as only 40 people were allowed into the cemetery for the funeral, while the chanting was done outside while the body was being taken from the nearby mosque to the cemetery. In addition, Border Police forces that were near the cemetery prevented the crowd from entering it.

Abu Jamal

murdered 60-year-old Rabbi Yeshayahu Krishevsky

in a vehicular and stabbing attack on Malkhei Yisrael Street in Jerusalem last October. The Bezeq phone company employee ran over pedestrians waiting at a bus stop before exiting the car and striking his wounded victims with an ax until he was shot dead by a security guard.

The police had delayed for six months the return of the bodies of East Jerusalem terrorists until reaching agreements with their families that funerals will be held late at night with a small number of participants—precisely to avoid such displays of incitement that encourage others to carry out attacks as well. Families were required to sign guarantees to that end.

At first the families charged that it was the desire to take revenge against them, not the concern of incitement, which prevented police from returning the bodies to them for burial.