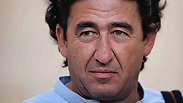 Foreign Press Association slams Israel strip-search demand
EPA photographer asked to pull down his pants by security before entering the Prime Minister's Office; he refused and left, resulting in foreign media refusing to cover Netanyahu's meeting with French PM; 'I felt humiliated,' Atef Safadi tells Ynet.
Israel's foreign media union condemned a demand for a photographer to submit to a strip-search before entering Prime Minister Benjamin Netanyahu's office on Monday.

"The Foreign Press Association is disturbed and disappointed to hear once again that a photographer covering an event today with the prime minister was asked to take part in a humiliating security check before being allowed to attend," the FPA said in a statement.

Atef Safadi, a Druze journalist with the European Pressphoto Agency (EPA), was attending as the FPA representative to take photos of a meeting between Netanyahu and French Prime Minister Manuel Valls that would later have been shared between media.

Before entering he was asked to remove his clothes as part of a security check, a request he refused.

He left, resulting in no photos for foreign media of the event. Furthermore, foreign news agency refused to even use photos distributed by the Israeli Government Press Office (GPO).

"The FPA again calls on security agencies to respect the right of journalists at such events, who already hold Israeli government press accreditation," the statement added.

"This isn't my first time at the Prime Minister's Office, I'm there at least once a month," Safadi told Ynet on Monday. "They know me, I've been a photographer for news agencies for 18 years, but the difference is that today I was representing all of the agencies."

Safadi recounted the incident, "A security guard approached me and asked me to undergo a physical search. At some point, the security guard asked me to pull down my pants. I felt humiliated, and I refused. He tried to convince me, said it only took a few seconds and then it would be over, and I said I refused to do it for even half a second - and left."

"The foreign journalist who was with me was not subjected to a physical search," he charged. "I don't know if they searched the rest. They didn't tell me why they wanted to search me. They don't answer, just take orders."

"It felt like humiliation and discrimination," he continued. "They do this sometimes to show strength in front of the media. The result of this is that none of the foreign papers have photos of the prime minister with the French prime minister."

"After the incident, I sent an email to the agencies to apologize for the fact there would be no photos. I received full backing from all of the agencies, every journalist sent me an email, people called to express their support," Safadi added.

This isn't the first time members of the foreign press are asked to take off their clothes. Reporters from al-Arabiya were asked to take off their bras during security check ahead of one of the prime minister's speeches, and Arab photographers were asked to pull down their pants - and refused.

The PMO said in response: "The security division was acting according to procedures. The photographer received a respectful and courteous treatment. The photographer decided not to complete the security check."

Israel's media status was downgraded from free to partly-free last month by a US-based watchdog, Freedom House.