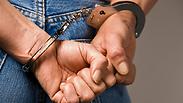 illustration
Photo: Shutterstock
2 Palestinians suspected of raping woman with mental issues
Woman says the two—a man in his 20s and a teenager—raped her while she was visiting a relative who lives in the same building; minor's lawyer: 'He claims this is a false complaint derived of a plot by the neighbors to make him leave the building because of his ethnicity.'
The police has arrested two Palestinian youth on the suspicion they raped a woman with mental issues in her 20s two and a half weeks ago in southern Tel Aviv.

According to the woman, the two—a man in his 20s and a teenager—attacked her out of nationalistic motivations.

The two suspects, who are in Israel legally, denied the allegations completely.

The police said the investigation into the complaint was still ongoing, while the court extended their remand by nine days.

According to the woman, she arrived at a relative's apartment in the building the two live in, and it was there that she was raped.

The teenager's attorney, Nir Elfasa of the Public Defender's Office, said that "this is a minor with no criminal record who's had a hard life. He denies all suspicions against him. He claims this is a false complaint derived of a plot by the neighbors to make him leave the building because of his ethnicity. We hope that the police investigate this fully and quickly, and closely examine the minor's claims as well."