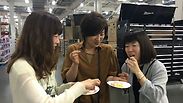 Israeli food festival at Japanese Costco
Last week ended the first Israeli Food Festival at Costco chains across Japan. The festival was sponsored in part by the Export Institute and the economic attaché of the Israeli Ministry of Economy office in Tokyo, and took place at 25 Costco stores across the East Asian country.

Japanese Costco members were able to taste different Israeli products including matza, pita bread, tea made in Israel, Israeli cookies, tehini, and Israeli wines. All of these products are now regularly sold in Japanese Costcos. The festival lasted three days.

The festival included food stands where the members were able to try 11 different Israeli products, including Asif brand Israeli couscous, Hanasich brand tehina, Adafresh brand spices, Angel brand cookies, and Wissotzky brand tea.

Japan is a very important Israeli trade partner and receives preferential treatment for Israeli exports. Food and drink exports to Japan rose five percent in 2015, and stands at approximately $75 million.
The meetings that led to a million dollars in exports
Ohad Cohen, exports manager for the Ministry of Economy, said, "In 2015, the government decided to take steps to strengthen the economic relations between Israeli and Japan. The Israeli and Japanese prime ministers held reciprocal visits over the past several years under this framework."

"We've seen great interest for Israeli products and technological cooperation from Japanese companies in a variety of fields including the medical, communications, pharmaceutical, and automation fields," Cohen continued.

The relations between the Israeli food companies and Japanese companies began due to efforts of the Israeli economy ministry attaché in Japan and Interlink-Eshkol, a company which held a networking event which brought Japanese companies into contact with dozens of Israeli food and produce producers. This eventually led to Israeli food products being sold in Japanese Costcos, and is expected to result in approximately one million dollars worth of exports.

Japan isn't the only East Asian country importing more Israeli products. The week before was the first Israeli Food Festival in Vietnam. It included Israeli chefs and businesspeople in the Israeli food industry who were trying to promote and expose Israeli products and food to the people of Vietnam. This was yet another initiative carried out by the Israeli Ministry of Economy.
Fresh pita in Vietnam
The Israeli festival in Vietnam took place in two cities: Hanoi in the north and Ho Chi Minh City in the south. The festival had cooking workshops led by Israeli chef Ruthie Russo amongst other high-profile Israeli chefs. They demonstrated how to cook various Israeli dishes such as majadra, musabaha style hummus, fresh pita made on site, malabi with pistachios, and sweet Israeli meatballs made with date honey.

Caroline Nevo, the head of the Food and Drink Branch of the Exports Institute said that "over the last several years, Vietnam has greatly developed economically and presents a great opportunity for Israeli industry and food exports."

"Food prices have risen in Vietnam over the past year by 30 percent. This is an unprecedented rise which we don't see in any other countries. The rise comes out of growing awareness, openness (of the economy), globalization, and curiosity to explore what else is out there," she continued.

"Generally speaking, in the last few years we at the Institute have seen more interest and demand for Israeli flavors and products in the east, and conversely, we have been expending great efforts to open up markets which will facilitate the entry of Israeli products and fully realize the potential of these markets."