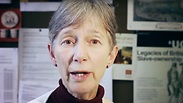 British academic rejects Israeli prize in 'political choice'
Catherine Hall, a history professor at University College London, initially enthusiastically accepted the $300,000 prize, but changed her mind after 'many discussions with those who are deeply involved with the politics of Israel-Palestine.'
A prominent British academic said Thursday she had turned down a prestigious Israeli award for political reasons, in what looked to be the latest attempt by Western activists to boycott the Jewish state.

Catherine Hall, a history professor at University College London, said her rejection of $300,000 in prize money from The Dan David Foundation was "an independent political choice." She declined to elaborate, but her stance appeared to be inspired by the international BDS movement, which calls for boycotts, divestment and sanctions against Israel.

In a statement to the British Committee for the Universities of Palestine, a pro-BDS group, Hall announced that she was withdrawn from the prize "after many discussions with those who are deeply involved with the politics of Israel-Palestine, but with differing views as to how best to act."

She did not return messages seeking additional comment.

The Dan David Foundation awards three $1 million prizes annually. Hall, whose research has focused on rethinking the relation between Britain and its empire in the 19th and 20th centuries, shared one of the awards with two others.

The prize is named after the late philanthropist Dan David and administered by Tel Aviv University. Previous recipients include former US Vice President Al Gore, former British Prime Minister Tony Blair, cellist Yo-Yo Ma and filmmakers Joel and Ethan Coen.

The foundation said Hall initially accepted the prize enthusiastically when she was selected in February and only later asked to withdraw her name without giving a reason. It said it will donate Hall's prize winnings to support Israeli and international history scholars.

BDS supporters claim the movement uses nonviolent means to end Israel's presence in the West Bank. US and British academic unions have endorsed boycotts, student governments at universities have made divestment proposals, and a number of churches have sold off shares in businesses seen as profiting from Israel's presence in the West Bank. The BDS movement also claims responsibility for pressuring some large companies to stop or modify operations in Israel.

But Israel says the movement's true goals are far more nefarious, alleging it seeks to destroy the country and has anti-Semitic undertones. BDS pushes, among other things, for a return of Palestinian refugees to family properties lost in the 1948 War of Independence surrounding Israel's creation. Israel says the Palestinian "right of return" would lead to a massive influx of refugees and mean the end of the country as a Jewish state.