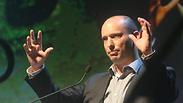 Bennett. Unrelenting.
Photo: Motti Kimchi
Following Education Minister Naftali Bennett's severe criticism of Prime Minister Benjamin Netanyahu, as well as his demand that a military secretary for the Security Cabinet be appointed so that its members may be better updated on the government's actions on matters of defense, the PM has announced the establishment of a team that will explore ways of better briefing Cabinet members. Bennett's party, Bayit Yehudi, quickly issued an official statement on the matter, calling Netanyahu's statement "meaningless" and saying that "no spin will save human lives."

PM Netanyahu announced Friday that he has established a committee that will recommend ways of keeping Cabinet members up-to-date while preserving information security. It is expected to submit its conclusions in about three weeks. The Bayit Yehudi party, however, has rejected "the Prime Minister's one-sided and meaningless announcement." The party's statement called the PM"s move, "the establishment of a meaningless committee. … You should ask Yohanan Locker where the committee report he worked on for a year is located, how many times it was discussed in the Cabinet, and what parts of it have been implemented so far." The Locker Committee issued a report regarding the Israeli defense budget in mid-2015, recommending it be frozen for a five-year period.

The statement continued, "We recommend that instead of dealing in smalltime politics and all-day briefings opposing the Bayit Yehudi (party), the Prime Minister simply open the Protective Edge report, where he will find the blood-written conclusions, which cry out for implementation." Bayit Yehudi officials claim that if the party's demands are not met, Bennett will vote against MK Lieberman's appointment as Defense Minister.